6 Best Air Compressor for Painting Cars in 2022 (Buying Guide)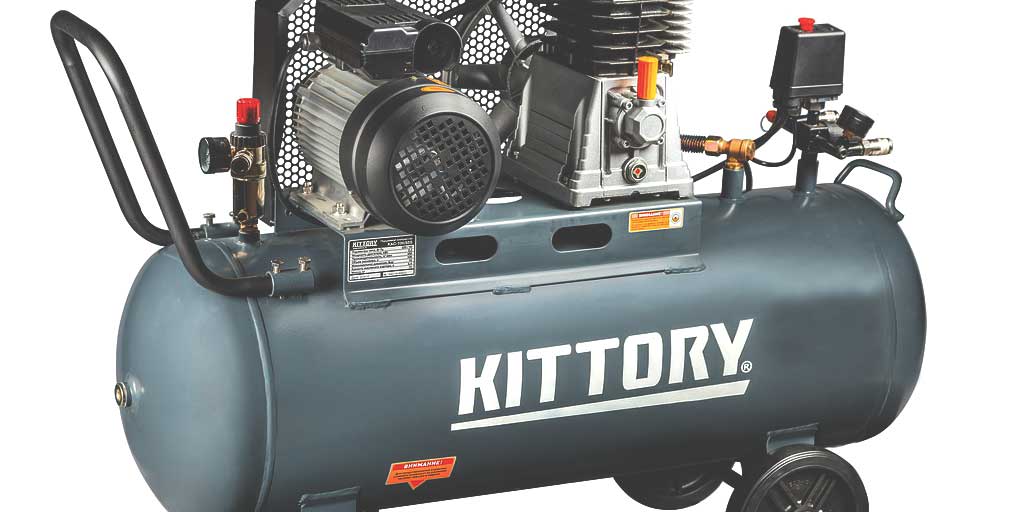 Painting is a rather vast field. And painting cars, on the other hand, is a completely different rodeo. It's important you have the right kind of tools and equipment to make your car look absolutely amazing.
But, to do that properly, you'll need a good quality air compressor, nay, the best air compressor for painting cars. Because, even with a top-of-the-line quality sprayer, you won't be able to do a good job without a good quality compressor. So, what if you don't know much about them?
Well, this is where we come in. We have prepared reviews on 6 of the best air compressors in the market to get you up to date. So, let's get into it, shall we?
Review: The Best Air Compressor for Painting Cars
We have put together reviews for 6 of the best air compressors in today's market below to help you make a better decision when it comes to comparing features. So, here goes:
1. Editor's Choice: WEN 2289 10-Gallon Oil-Free Vertical Air Compressor
We'll start with an amazing option brought to you by WEN. This one packs in specifications that helped it earn its spot among the top options for the best air compressor for automotive painting. So, let's see what this air compressor has to offer compared to its competitors.
For starters, our unit was a 10-Gallon air compressor that is sturdy thanks to being constructed with reinforced steel. And further thanks to that build, the air compressor can operate at a maximum pressure of 150 PSI. Moreover, it also has an oil-free pump that needs no external lubrication for quite an amount of time.
Now, let's move on to the other specifications here. This air compressor also happens to feature a drain valve that is both easy to reach and quick in draining. Along with that, it also comes with a quarter-inch NPT quick coupler that thrives with two pressure gauges.
But most importantly, the air compressor can provide amazing airflow rates like 4 CFM at 90 PSI and 5 CFM at 40 PSI. So that should make your life easier. And that's all about this air compressor's specs, which were pretty amazing to us.
As for the cons, we found an issue with the portability of this one which won't be that much of a problem if we consider the amazing list of features. Now, we leave the decision up to you. So, let's move on to the other ones on our list here.
Features and Specifications
10 Gallon Capacity
Weighs 71.5 Pounds
5 CFM Air Flow Capacity
Pros
Reinforced Steel gives maximum pressure of 150 PSI
Oil-Free Pump that doesn't need external lubrication for quite a while
Features a quick drain valve which is also easy-to-reach
Has a rubber grip handle and two 7-inch wheels that are never-flat
Cons
Not as portable as you'd like
2. Best for Portability: Porter Cable PXCMF220VW 20-Gallon Portable Air Compressor
Secondly, we have something from Porter Cable that looks identical to our entry by WEN, but it's actually quite different thanks to one difference.
So, let's get down to it and check out all the specifications and features that come along with this air compressor. Let's see if this is the best portable air compressor for painting cars around.
Now, the first thing that caught our eyes about this product by Porter Cable is that it has a 20-gallon tank that is CSA certified. So, you can stop worrying about refilling your air compressor thanks to smaller tanks. Hence, if you're doing some work that needs a lot of air to finish, then you won't have to fill in the tanks often.
Moreover, similar to the one by WEN, this compressor also happens to provide an airflow rate of 4 CFM at 90 PSI and 5 CFM at 40 PSI. So, we can say that this compressor by Porter Cable is pretty efficient. Now, that's something we all like to hear, right?
Well, it's not over yet, unlike the one by WEN, the Porter Cable air compressor is highly portable. So, you won't be facing any issues when it comes to call-in projects at a client's place.
Now, the only flaw of this one is that it makes too much noise compared to the other compressors. But weighing in the advantages, that shouldn't be an issue.
Features and Specifications
20 Gallon Capacity
Corded Electric Power Source
Requires 120V to operate
Pros
Can provide a maximum pressure of 150 PSI
CSA Certified Tank Unit
7-inch pneumatic wheels for better mobility
Has rubber feet for better stabilization
Cons
A bit louder than you'd like
3. Best for Spray Painting: DEWALT DXCM271.COM 27 Gal. 200 PSI Portable Air Compressor
DeWalt has quite a name when it comes to power tools and air compressors and they have impressed us yet again with their DXCM271.COM Air Compressor. And they are a strong contender for the crown of best air compressor for spray painting. Let's see how.
The first thing that is notable about this air compressor is that it provides around 6.8 SCFM at 40 PSI and 5.1 CFM at 90 PSI which helps in getting better and effective paint jobs.
Moreover, the unit also has a maximum of 200 PSI when it comes to air pressure, all thanks to its tank which is made out of high-grade reinforced steel.
Moreover, the 27-gallon tank of this air compressor makes it more than enough for professional paint jobs. This product is perfect for big projects such as painting trucks and bigger automotive vehicles. So, you won't have to worry about changing the paint frequently with this around.
Along with such a big tank, you're also getting pneumatic tires that make moving the tank around effortless. Moreover, the twin-cylinder design makes it more efficient and definitely low maintenance. Pretty convenient right?
But, with all this convenience, draining the tank can be a bit difficult which isn't that big of an issue.
Features and Specifications
27 Gallon Tank Capacity
120 V Electric Power Source
Pros
Can provide a maximum pressure of 200 PSI
Easily maneuverable
Dual-purpose handle provides protection
Makes less noise at around 78 decibels
Cons
Draining the tank is quite difficult
4. Best for Multipurpose Work: CRAFTSMAN 20 Gallon, 1.8 HP Air Compressor
Nobody's a stranger to CRAFTSMAN when it comes to equipment for craftwork. They are widely known for their highly efficient gear and their work that has never disappointed anyone.
This air compressor is doing exactly the same. We were impressed with its features and that's what made us keep it on our list to help you choose the best air compressor for painting.
Firstly, the CRAFTSMAN air compressor has an impressive tank that can hold up to 20 gallons, which makes all of our lives easier while using it.
The hefty task of refilling the tank in the middle of intense work is relieved thanks to this one feature. So, you won't have to worry about interruptions while using this compressor.
Secondly, CRAFTSMAN has added in a 1.8 horsepower motor that packs in quite the punch, which helps you apply paint more efficiently. This motor can deliver 4 SCFM at 90 PSI pressure and 5 SCFM at 40 PSI. So, they left out nothing when it came to performance at this price point.
Thirdly, the pump for this one is completely oil-free. So, you'll need less to no lubrication at all for a long period of time after you lubricate it once. It might not be as quiet as the other ones on this list, the other features sure do make up for that.
Features and Specifications
The tank can hold up to 20 Gallons
Powerful 1.8 horsepower motor
Provides 4 SCFM at 90 PSI and 5 SCFM at 40 PSI
Pros
Has the ability to handle a maximum pressure of 175 PSI
Oil-Free Pump for less lubrication
Multifunction air compressor
Rubber feet for stabilization
Cons
Makes a little too much noise
5. Best for Professional Projects: Ingersoll-Rand P1.5IU-A9 2hp 20 gal Single-Stage Compressor
Here's an industrial-grade air compressor from Ingersoll-Rand that is definitely not for your run-of-the-mill domestic projects. The features are solid and deserve solid recommendations as they are the best specifications in this list.
The first thing that caught our eyes in this single-stage air compressor is its design for heavy-duty work. Constructed for industrial purposes, the P1.5IU-A9 boasts a tank of 80 gallons. So, you can guess that it is meant for huge projects that require an immense amount of time and effort.
Along with the tank comes an industrial-grade motor that hits jobs head-on with its 5 Horsepower specification. The motor promises to provide optimal air pressure to your professional projects.
And to support all this heavy-duty work, Ingersoll-Rand has made the unit with cast iron, which ensures top-of-the-line durability.
Moreover, thanks to its two-stage pumps, this air compressor's cylinders stay much cooler than that of its competitors', so while doing all this industrial-grade work, you won't have to worry much about overheating. This kind of cooling can add to the efficiency of this already amazing air compressor.
The only drawback we faced is the lack of portability and massive weight due to the industrial design. But that's nothing compared to what you're getting here. So, we would love to recommend this to you.
Features and Specifications
A massive tank that can hold up to 80 Gallons
Maximum Air Pressure of 175 PSI
Industrial grade 5 HP motor
Pros
Designed for heavy-duty work
Made out of cast iron for durability
Has the ability to handle tough jobs smoothly
Relatively cooler
Cons
Not portable
Heavier than others
6. Best for Domestic Projects: California Air Tools 8010 Air Compressor
Last but definitely not the least, this air compressor for California Air Tools is exactly what you need for domestic projects that won't bug your family and your neighbors.
Its unique feature set is perfect for you if you're someone who's not willing to compromise for the noise. So, let's see if this is your best air compressor for automotive air tools.
The first thing that we would like to point out is that the 8010 Air Compressor by California Tools was designed with the motto of 'Ultra Quiet' in mind.
So, you might have to make some compromises when it comes to specifications. But it is, in fact, the quietest air compressor on this list. It only produces 60 decibels of sound.
It has an 8-gallon tank, which might not be as much as the others, but gets the work done.
Now, it might be larger than the other compressors of its capacity, but the unit is set with wheels that make it easy to move around, making it as portable as it gets. So, we can assure you that you'll get the best kind of mobility out of this one without any doubt.
Moreover, it is powered by a 1-horsepower motor that can deliver 3 CFM at 40 PSI and 2.2 CFM at 90 PSI. So, it doesn't compromise when it comes to performance despite being ultra-quiet.
So, other than leaking air pressure in small amounts, this air compressor is a must-have for anyone interested in domestic projects.
Features and Specifications
Electric Corded
Capacity of 8 Gallons
Needs 110V of electricity to operate
Pros
Lightweight and easy to maneuver
Doesn't require much maintenance
Has pressure gauges that are convenient
Ultra-quiet
Cons
Tends to leak air pressure, but at a very small amount
What to Look for Before You Buy Painting Car Air Compressor
Now that you have seen the reviews for the best air compressors around, you should look at some factors before you make your purchase to choose the best compressor for painting. So, we discussed these factors for you.
Air Pressure
The first thing to look for is how much air can your compressor pump out. These values are usually given as PSI or pounds per square inch. This tells you how much force the compressor can deliver from its tank.
Now, if you use an HVLP sprayer, then even a compressor with low PSI should handle the job quite easily as it is all about the volume of air, rather than the pressure. Other than that, if you wish to use this air compressor with other tools as well, don't forget to check its requirements.
Cubic Feet Per Minute
The next thing to look at is the CFM or Cubic Feet per Minute. This shows you how much air your compressor can blast out while it works. This might seem like a bit too much now, but you'll need the right equipment to match this number for different kinds of jobs.
Compared to other tools that use air, paint sprayers will work continuously, you'll need higher CFM ratings to get a more efficient paint job. So, it's rather essential that your compressor has a good CFM rating for efficient work.
Portability
Now, you also have to look at how easy it is to move your compressor. Small air compressors are easy to move with your hands alone. But large compressors will come with wheels due to their weight. So, unless you have a fixed spot for the compressor, it's important that you consider this factor before you buy.
This kind of portability will let you keep everything in a compact place and keep things tidy.
Tank Capacity
You also need to look at the size of the tank while buying a compressor to get consistent air power. Car sprayers work with a lot of pressure. So, a small tank won't do the job that well.
Professionals will recommend a 50-gallon air compressor if you want to get things done efficiently. But you can always make do with a lower volume if it meets the CFM requirements of the sprayer that you're using.
Noise Made
Now, all air compressors make a whole lot of noise. But it doesn't hurt to look for one that produces less for the sake of your family and your neighbors. You don't want to annoy anyone for something that you're doing, do you?
Moreover, you can also save your ears from all that noise pollution. So, try to buy something that makes fewer decibels of sound.
Oil-Free or Not
And the last thing to look at is if the product's oil-free or not. This is because oil-free pumps require less lubrication. Now, these pumps come pre-lubricated so you don't have to worry about oiling anytime soon. So, that brings down the hassle for maintenance.
What Are the Minimum Requirements for an Air Compressor to Paint a Car?
Now that you know about the qualities to look for in your compressor, it's time we told you about the ideal numbers for the air compressor that you'll use to paint your car. This might help you decide what is the best air compressor for painting cars for you.
Ideal Air Pressure
The first thing to keep an eye on is the air pressure. To paint a car properly, you'll need quite the amount of air pressure. Now, the air pressure will vary for different paint coats on the car. But the ideal work range is 15 to 20 PSI. So, keep an eye out for that kind of pressure.
Cubic Feet Per Minute
CFM is very important when it comes to painting cars as you'll have to apply thin coats as evenly as you can. So, the higher the CFM, the more range you'll have for your coats.
Hence, you'll need a substantial air compressor that can deliver the CFM that you need. We would recommend one that can provide 14-18 CFM at 90 PSI.
Best Tank Capacity for Painting Cars
One thing that we would like to mention is that spray painting your car is more about the volume of your air, rather than the air pressure. So, we would recommend an air compressor that has a 30-60 Gallon tank. But, 20 Gallon should also do the trick.
How to Set Up an Air Compressor System for Painting Cars?
Before we tell you how to paint your cars using the air compressor, we need to tell you how you should set it up. The procedure is pretty simple. So, here goes:
Step 1: Check Your Compressor Unit
The first thing that you have to do is check if your compressor unit can provide the PSI and CFM that your spray gun requires. This way there will be no drop in pressure and no loss in volume.
Step 2: Check if Your Air Hose Is the Right Fit for Your Air Compressor
Now, it's important that you choose the kind of hose that your compressor needs. Otherwise, there might be volume loss and the pressure might drop if the hose is too long. Moreover, the air pressure will be low if your hose is too narrow.
Step 3: Avoid Quick Connectors
If you connect the air hose to a gun, you shouldn't remove it that much. But some people use quick disconnecting fittings that might end up dropping your pressure. So, we would recommend to not use quick connectors unless you must use them.
Step 4: Get Good Quality Hight Flow Regulator
The next thing that you have to do is get a good air regulator. The regulator makes the air pressure smooth and helps it remain constant. But then again, don't use a regulator that is too restrictive as it might lead to the pressure dropping excessively.
Step 5: Connect and Start Spraying
Once all that is done, simply attach the spray gun and start working your magic.
How to Use Air Compressors for Painting Cars?
Now let's see how you can use air compressors to paint your car properly. There are three easy steps that you can use to do so. So here goes:
Step 1: Sand the Surface
At first start by properly sanding the surface of your car. This is necessary to get rid of the old clear coat, the topcoat, and the base coat. Use a sander for this purpose, because you have a lot of ground to cover here.
Try to consistently sand at every point of the surface to smoothly sand off the coats of paint and for the corners and crevices, use your hand for better results. Cover the whole surface as evenly as possible. Once this is done, use a clean rag to apply paint thinner on the surface and wipe off the dust on it.
And lastly, let the thinner evaporate before you start the rest of the work.
Step 2: Prime the Whole Thing
Now mix the primer and the thinner according to the recommended ratios. Fill it into the canister. Then mask all the places that you don't want to paint. Now, hold the paint gun about 6 inches away from the car panel and spray it side to side. Don't hold the trigger when not moving the gun to avoid overspray.
Now, make sure you apply the coat evenly and as thin as possible. 2-3 coats should do the trick. After that, sand the surface with 2000 grit sandpaper of the wet and dry kind.
Step 3: Start Painting and Work Your Magic
Once that is done, mix the paint and the thinner. Now, follow the same technique as you did with the primer and apply 3-4 coats of paint. Make sure that you let the paint dry after every coat.
Then sand the surface before the final coat and clean the residue with a clean rag. Now, apply the clear lacquer coat of paint and sand again.
Then remove the masking tape and let the coat cure. With that, you're done painting your car.
Frequently Asked Questions
Can you paint a car with a 30-gallon air compressor?
Well, you can do that, but it'll be rather difficult if the compressor has a low PSI and CFM rating.
Can I paint motorcycle parts with a 10-gallon air compressor?
You sure can, just make sure that your PSI and CFM are properly adjusted.
How much air pressure is required to paint a car?
That depends on the kind of work you're doing. 15 PSI for base coat is fine and 20-25 PSI would be perfect for a clear coat.
Can I use a porter cable pancake air compressor for painting?
You can, but you definitely shouldn't. These pancake air compressors don't have enough pressure.
Can you spray interior walls with a car paint gun air compressor?
You can. But these sprays are rather messy and tend to overspray. So, we would recommend you not to do so.
Can I paint a car with Kobalt 8-gallon air compressors?
It's not ideal to use such a small compressor for painting. But if it's all you have, you can.
Can a 5-hp 8-gallon air compressor work for painting a car?
The power here is fine, but working with such a small compressor can be difficult when it comes to painting cars.
Can a 20 gallon 2.5-hp air compressor paint a car?
You can do so, but you'll have to give time for the paint to recover as you keep painting.
Final Words
That was all we had for the best air compressor for painting cars. We hope you could learn something out of here and put it to good use.
Make sure that you consider your use while weighing your choices to make the best decision. Other than that, happy painting!