7 Best Circular Saw Blades for Cutting Aluminum: Super Fast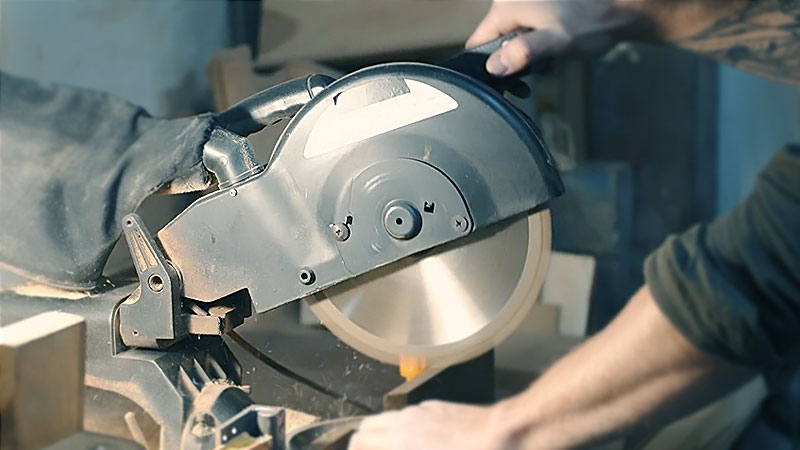 One of the most common metals nowadays for construction purposes is aluminum. This material is integral for home projects, and we understand how intimidating the cutting process of aluminum can feel as a beginner.
You can easily replace this intimidating feeling with confidence if you have the perfect circular saw blade by your side.
We have researched and chosen the best circular saw blade for cutting aluminum so that you do not have to search or go through the trouble. If you pair any of the blades mentioned below with the right saw type, nothing will stop you from creating extraordinary projects.
The Best Circular Saw Blades for Cutting Aluminum
It is essential you choose the correct circular blade to cut aluminum. In this review, we will be talking about the top 7 circular saws in the market. Therefore, please go through the entire review to get a clear idea about which saw will be perfect for your work.
1. Diablo D1080N Metal And Plastic Cutting Saw Blade: Best for Clean Cuts
When it comes to choosing a high-performance cutting blade, you cannot go wrong with the Diablo D1080N. This blade contains all the necessary features to make it the best metal cutting circular saw blade in the market.
One of the most crucial and important characteristics of any blade is its ability to make clean cuts. That clean cut is precisely what the Diablo product will provide you. It contains a high-density micro-grain titanium carbide component that allows it to create razor-sharp cuts every time you use it.
Furthermore, this device comes with a clean cutting design that will help you achieve smooth performance. You can maximize both the work's accuracy and efficiency with the help of this blade's thin, 0.094-inch kerf. Controlling your blade's position will not be an issue anymore.
Additionally, cutting aluminum with circular saw like this one comes with an exceptional benefit. This device contains laser-cut stabilizer vents that help to reduce vibration and noise during operation. Hence, your work environment will be relaxing, and you will be able to work without any disturbance.
Pros
Its versatility allows it to fit table and miter saws
Clean and burr-free finishing possible
You can cut fast and precisely
Laser-cut stabilizer vents will reduce noise and vibration
Micro grain titanium carbide component provides durability
Cons
Not appropriate for cutting materials continuously
2. DEWALT 6-½-Inch Circular Saw Blade: Best for Speed
Picking out an excellent quality circular saw that would come with superior components and speed is not an easy task. Let us introduce a product that comes with the perfect combination of material and impressive cutting speed – the DEWALT 6-½-Inch Circular Saw Blade. It will be able to cut aluminum material smoothly like a knife going through butter.
Additionally, the blade of this device has approximately 36 teeth in total. There are six teeth per inch of diameter, and this amount will be enough to efficiently cut thick or thin aluminum material. Its superior serration makes it the best blade to cut aluminum railing.
Furthermore, the ultra-thin kerf model of this product improves the speed ten folds. If you are searching for a saw blade that quickly finishes the job without creating too much material loss, this one will be perfect for you.
This kerf model reduces resistance and material loss, and the blade does not become unsafe with long-time usage.
Moreover, this product helps to increase accuracy and cutting efficiency with the help of its anti-stick rim. This rim can also minimize unwanted friction and provide you smoother results. With such an accurate cutting efficiency and finishing, every project will be a success.
Pros
Contains 6-½ inches 36 tooth kerf blade
Friction and gum-up reduction possible
The dimension of this blade is 8.7 x 8.1 x 0.1 inches
Comes with a non-corrosive carbide material
Cons
Not the best saw blade for long-lasting usage
3. Evolution Power Tools Aluminum Cutting Saw Blade: Best for Non-ferrous Material
The product we will be talking about now may be relatively more expensive than the rest of the cutting saws. However, we can assure you that this saw will be worth the price.
It is the Evolution Power Tools Aluminum Cutting Saw Blade. This product comes with a higher number of teeth compared to conventional ones. On that note, its 80 carbide teeth will provide a superb combination of power and efficiency.
Furthermore, one primary issue with most cutting blades is the excess build-up of heat. That can not only cause damage to the blade itself but also provide an unsatisfactory final product.
However, you can avoid such an issue because the Evolution blades come with an instantly workable finish with almost zero heat production.
Additionally, if you want a blade for cutting aluminum with miter saw, this product will be the perfect one. It not only cuts faster but also cuts bigger.
Traditional abrasive blade methods take a while to cut aluminum material. But the evolution steel blade can cut through 6 inches of ¼ inch thick mild plate in under 12 seconds. Hence, cutting through aluminum and non-ferrous material will not be an issue anymore.
Now, let us talk about an important factor of this aluminum cutting saw – safety. If you use powerful blades to cut abrasive material for a long time, there may be excessive dust, smoke, fume production that can cause damage to your health.
But the Evolution blade creates no dust, burr and outputs a minimal amount of heat, which will not be harmful.
Pros
Perfect for cutting aluminum and non-ferrous material
Does not produce too much heat
Safe for usage as it does not create dust or burr
Contains 80 carbide teeth
Cons
It may create a loud noise when you cut aluminum
4. COMOWARE 12-Inch Heavy Duty Saw Blade: Best for Noise Reduction
Are you tired of using saw blades that make excessive noise and vibration every time you use them? Loud noise by such tools can give you a major headache and cause a distraction that can end with lousy finishing. An exceptional product like the COMOWARE Saw Blade will remedy that perfectly.
It comes with a unique design, like a silencer groove that allows you to reduce both vibration and noise. You may be wondering why the reduction of vibration matters.
Excessive vibration can prevent you from achieving a smooth finishing. Interestingly, it also contains high hardness carbide tips that prevent corrosion and provide long-time service.
If you are interested in choosing a blade to deal with laminate flooring, this one will be perfect because it is the best circular saw blade for laminate flooring.
Moreover, this product contains a high-quality carbide core component. A material like this one helps to prolong the service life of the saw blade as well as add sharpness to it.
Whether you want it for cutting non-ferrous or aluminum components, the COMOWARE will be your best friend. However, we do caution you to equip yourself with a safety protection device before using it. If you keep it away from damp places, then it will last a long time.
Pros
Comes with a silencer groove that reduces noise
Its high hardness carbide tip prolongs the service life
Perfect for cutting aluminum plate
12-inch 100 tooth saw blade
The blade is narrow and increases cutting speed
Cons
Not perfect for larger projects
5. TOMAX 10-Inch TCG Aluminum Saw Blade: Best for Durability
Are you in search of an ideal saw that will provide high performance without hitting your budget too hard? Then, take a look at TOMAX 10-Inch TCG Saw Blade. This product comes with construction-grade carbide teeth, which provide superior resistance and increase its service life.
A 10 inch aluminum cutting saw blade like this one would be excellent for efficiently cutting non-ferrous and aluminum material.
This device contains an electrophoretic coating that allows it to reduce the amount of rust and corrosion from damaging the blade. A feature like this one is crucial because it can help increase the usability of the product.
Furthermore, unlike some conventional saw blades, this one comes with superior versatility. You can use it not only for aluminum cutting but also for other projects like pressure-treated wood that are difficult to cut. However, we can assure you that the TOMAX one is the best circular saw blade for pressure treated wood.
If your top priority is cutting aluminum with wood blade, then this device will be exceptionally good. Its TCG grind mechanism provides durable and smooth finishing. No other product will come with such a high cutting speed and precision. Hence, you will benefit if you choose this blade.
Pros
Construction-grade carbide teeth available
Contains an electrophoretic coating
No need to worry about the saw becoming rusty
Durable and smooth cut possible with TCG property
Versatile and budget-friendly
Cons
You will have to ensure additional eye protection when you use it
6. MASTEC 10-Inch Aluminum Saw Blade: Best for Versatility
Finding a saw blade that will provide both smooth cutting and clean finishing is not an easy task. If you choose the wrong blade, that may damage your final result significantly.
Let us introduce the MASTEC Aluminum Saw Blade. This product is superb because it comes with excellent features that allow it to cut materials smoothly.
One of its exceptional characteristics is the TCG tooth. This triple chip teeth blade will be able to cut through thick and thin aluminum or non-ferrous materials efficiently. Moreover, this product comes with approximately 100 teeth which all function to provide an even smoothness.
Additionally, it is a versatile product, and you can use it for cutting various types of material. Whether you have a miter saw, circular saw, or table saw, this product will work well with all of these.
Even though people use this device widely for cutting aluminum, you can also cut plastic, plexiglass, and non-ferrous components.
However, the manufacturer does provide some safety instructions like wearing proper safety gears before working and aligning the blade correctly so that it functions well. You have to keep these safety guidelines in mind before working with blades like this one.
Pros
Perfect for cutting aluminum and non-ferrous components
Comes with a 10-inch diameter and 100 teeth
Durable and provides smooth cutting
Versatile, and you can use it with a miter/table/circular saw
Cons
May not cut aluminum framing well enough
7. Oshlun SBNF – 100100 TCG Saw Blade: Best for Budget
Not all saw blades can cut through tough aluminum and non-ferrous components properly. If you want to ensure an efficient cut, you will have to go for the Oshlun SBNF – 100100 TCG. This product comes with a triple chip teeth (TCG) configuration that allows it to excel at cutting aluminum.
It comes with a professional-grade C-1 carbide component that will not chip or break apart when it makes contact with the aluminum material. Meaning, your saw blade would function properly for an extended period without any damage.
This precision micro-grain tungsten carbide tooth-configuration leaves burr-free and clean cuts.
Furthermore, if you are worried about the saw blade creating unnecessary noise and vibration, we assure you this product will be the better option. It contains expansion slots made from copper plugs. Such expansion slots allow the blade to reduce noise and vibration.
The manufacturer instructs not to use any ferrous materials to cut with this product. Since it contains components or features to cut non-ferrous components, the ferrous ones may cause damage to the blade and reduce its service life. Proper clamping and coolant are important when you work with blades like this one.
Pros
Precision-friendly teeth design available
Comes with a professional-grade C-1 carbide component
The copper plugged expansion slots reduce noise
Contains a negative hook angle feature
Cons
It functions relatively slower
What to Look for Before Buying?
There are several features you have to look out for before purchasing any saw blade. These features will ensure that the blade works perfectly to provide a smooth finishing.
Types
There are a few types of circular saw blades available in the market.
Framing: The most common type of circular blade is the framing type. Usually, blades like this one come with 18 to 24 teeth. If you are working on wood material and your project requires clean cuts, this type will be the perfect option.
Metal Cutting: Aluminum, metal, non-ferrous elements are perfect for this type of blade. These are strong enough to provide precise cuts without the tooth's chip breaking apart from long-time usage.
Finishing: This type of blade contains more teeth compared to the framing ones. Their teeth amount can range from 30 to 70, sometimes even more. For example, the Oshlun SBNF-100100 TCG Saw Blade contains approximately 100 teeth.
Blade Diameter
Every blade comes with a label where the manufacturer mentions its diameter. Different diameter helps to cut different type of materials smoothly. Hence, it is essential you have a clear conception of your blade's diameter. Among all the diameters, the 7 ¼ circular saw blade for aluminum is the most popular one.
You can determine the depth of the cut and how quickly the blade will work by choosing the correct diameter. Remember to match the size of the arbor or blade mounting hole with the saw size.
Material
Whether your saw will last long and function well or not depend on its core component. Most saw blades for aluminum come with a carbide component. This material provides enough strength so that the blades can cut strong materials like aluminum without any issues.
Interestingly, some products come with an exceptional coated finishing. Such finishing can help improve the longevity of the blade. It can also prevent them from becoming rustic.
Frequently Asked Questions
What is a circular saw blade?
A round and flat blade consisting of teeth is known as a circular saw blade. You can fit this type of blade into any circular saw. And you can use this type of versatile blade on a miter saw, table saw, or radial saw. However, not all circular saw blades can cut strong materials like aluminum or non-ferrous components. Some are more appropriate for cutting wood instead.
Which type of circular blade will be good for aluminum?
If you want a blade that will smoothly cut aluminum material, then go for the metal-cutting type blade. It contains more than 30 teeth, and that can help provide an even and proper finishing.
Why does the diameter of the blade matter?
The blade diameter can determine the depth of cut and the speed of the saw. If you need a blade that will cut deeper, the blade's diameter should be more than the conventional saw blades' diameter. Sometimes, if the diameter does not match with the rest of the blade's dimension correctly, that can damage the blade's effectiveness.
What is the best circular saw blade for aluminum?
There are several blades that we have talked about in this review. Among all of them, we believe that the Diablo D1080N Metal And Plastic Cutting Saw Blade is the best one. It not only comes with superior functions but also does not provide excessive noise/vibrations.
What is kerf?
You may notice that some blades come with features known as kerf. It refers to the thickness of the blade, and circular blades can have various types of thickness.
Final Words
One of the most cost-effective ways of cutting tough materials like aluminum is using power tools. Circular saw blades are relatively inexpensive, and they get the job done. Our review of the best circular saw for cutting aluminum will help you choose the appropriate saw blade for your project.
More importantly, to keep you from feeling confused by all the products, we picked out the absolute perfect saw blade; Diablo D1080N Metal And Plastic Cutting Saw Blade.
This product will allow you to cut aluminum fast and precisely. However, unlike conventional saw blades, this one will not create a loud noise when you use it. Hence, choosing this product will be your best bet if you want to cut any tough aluminum material smoothly.
Another honorable mention that we could not include in our review is one of the best 7 ¼ circular saw blades, called the COMOWARE 7 ¼ Premium Tip Circular Saw Blade. Do check out this saw blade if you are specifically looking for the 7 ¼ inch diameter.