Best Paint Sprayer for Cars with Buying Guide [2022]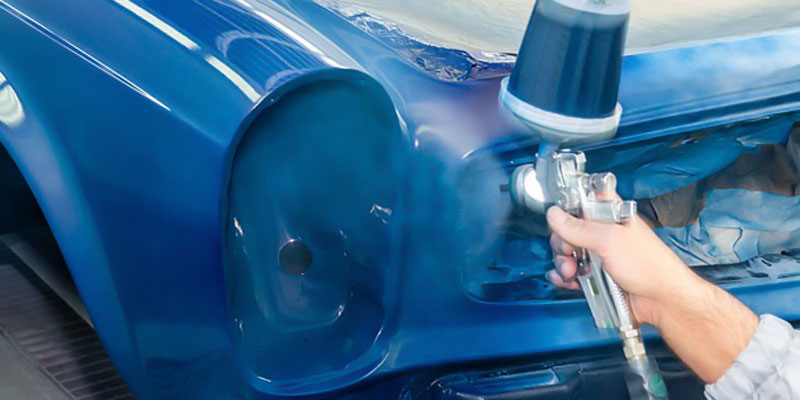 While precision and skill are very important for spray paint on cars, the quality of the spray paint used in the process will mostly determine how good the result is. The importance of using quality spray guns is paramount.
Painting your car by yourself can be a great experience, and it can be fun too, but only as long as you know how to do it properly and have the proper equipment.
For ensuring the best result, you'll need the best paint sprayer for cars. Today, we'll review the very best that you can buy from the online market now, so stick with us for a comprehensive review.
The Best Paint Spray Gun for Cars
We've picked the top 8 paint spray guns that you can get for yourself. For your convenience, we separated them and ranked them according to their specialty. No matter what it is that you need, you'll find a product suitable for you.
Read More:
How A Paint Spray Gun Works
The working method of the spray nozzles is interesting. They usually imp turbulent air on high-velocity on the surface of liquids or films.
Thus, the liquid or film collapses to form droplets, and as it's a controlled pattern, the size of the droplets can be controlled as well.
For working with a spray gun, at first, you'll have to fill the reservoir tank installed, usually on top of the gun with paint. Then, there's one of the most important tasks, adjusting different settings on the gun.
You need to install the right tip for your project, adjust the speed settings and the air to liquid balance to suit exactly the texture you need.
When you are operating, the built-in motor of the spray gun will drive an internal piston at a certain rpm. The suction created by this momentum will suck up the paint from the reservoir.
The atomizer valve is the next stop for the paint, and the paint experiences a swirl pattern here that breaks it up. Finally, the paint is released through the tip in a certain pattern.
Thus, you end up with a uniform and clear coat with a spray gun.
What is a Paint Spray Gun?
Paint spray guns are specialized painting tools that use compressed air for atomizing liquid. Unlike rollers or paintbrushes, the paint spray guns are quite fast. If you consider a four-foot wall, then if it takes five minutes to paint it with paintbrushes, you'll need only a minute to paint it with a spray gun.
Another feature of paint guns is that they allow you to paint evenly across an uneven surface. If you were painting on a surface with cracks, then you would have missed the cracks if you were painting with a brush or roller.
However, painting with a spray gun will help you cover each portion of the surface without any extra effort. Then again, you'll be able to get a more even coat as you won't have to paint on the same surface over and over again.
Even though paint spray guns offer a lot many features over conventional rollers and paintbrushes, they can be pretty tough to work with. Unless you have prior experience with them, you won't be getting a perfect finish.
Then again, you need to learn how to mix the paint, the air, and liquid properly to get the texture you want. Learning these can take months and even years. Plus, you'll need to clean these regularly to maintain them.
How to Choose the Suitable Best Paint Sprayer for Your Cars
Buying your first spray gun can be very exciting, but we highly recommend you take your time and pick the right one for yourself. In this section, you'll learn about the factors that you need to consider for choosing a paint spray gun.
Ease of Use
You don't want a spray gun that's tough to clean because you'll need to clean them often. Spray guns are tough to manage. If you leave them unclean, then they won't last long. This is why we highly recommend getting a spray gun that's easy to disassemble, reassemble, and clean.
Air Pressure Rating
There's no specific pressure air pressure rating that you need to go for. There are different designs, and you'll mostly find HVLP and LVLP out there. The HVLP design uses more air pressure for faster spray, while LVLP does the exact opposite.
Then again, HVLP compromises on spray efficiency, while the efficiency of LVLP is quite high.
So, you'll need to pick either one of these depending on your necessity.
Weight
You don't want to end up being fatigued after hours of work; this is why you need to consider the weight of the spray gun. You need to consider the weight you can carry for a long time and then pick accordingly.
Paint Cup Volume
The paint cup will determine how much paint you can carry at a time. However, this can be a double-edged sword. While getting a cup with a high volume will help you carry more paint, it'll weigh you down as well.
This is why getting a paint cup with a high volume won't do you any good unless you need it. You'll have to find the sweet spot between volume and weight and settle at a point that'll suit you best.
Construction
Spray guns can break more often than you might think, and you don't want that. This is why we highly recommend getting a spray gun built of stainless steel.
Stainless steel doesn't only make the gun invulnerable to physical damage, but it will also keep it safe from water.
How Do You Paint a Car with a Spray Gun
Painting a car can be challenging, but it's equally rewarding too. Here are the steps that you'll need to follow for painting a car with a spray gun.
Prepare the Car
The very first step is cleaning the car, making sure that there isn't any grease or dust on the surface of the car. You'll also need to fix the dents if your car has any. Otherwise, the coat will become extremely uneven.
Sand the Car
To make sure that the paint settles well on the surface of the car, you need to sand it properly. When sanding, you need to use a circular motion of your hands. If you want the best results, you need to keep on sanding until the very metal of the car is visible.
Prime
Use a corrosion-resistant primer after you're done sanding the car. Allow the primer to cure, and we strongly suggest following the instructions on the container of the primer.
After the primer surfaces, you need to repeat the entire sanding process.
Paint
Spray keeping the gun six inches from the surface. Use a side-to-side motion for applying the paint, and make sure the coats are even. Sand after painting, and then apply a coat of lacquer.
Buff
Buffing is the portion where you buff the entire surface using circular motions. If you apply a rubbing compound, then you'll even get a glossy finish.
How to Spray Paint a Car With the Best Spray Gun for 2k Paint?
Prepare the paint with a ratio of 2:1, and mix 2 parts of paint and 1 part of 2k hardener. Then add 10% 2K thinner to the solution.
You can also change it slightly depending on the air supply and spray gun model. Apply the cover coat of 2K paint on the surface and leave it for 10-15 minutes.
For better paint, wipe the surface gently using a Tack rag before spraying. If the paint is harder, you can mix the base coat according to the recommended ratio with a 2K reducer.
What Type Of Spray Gun Is Best For Painting Cars?
You have several choices of spray guns to use for painting cars, but the automotive HVLP Spray Gun is the best spray gun type for car paints. It has high volume and low-pressure features that provide a smooth painting experience for cars.
This type of gun ensures a softer spray experience using a high air volume at low air pressure. Because of its high-quality performance, this spray gun has become a favorite for many professional painters.
How Often Do You Need To Clean Your Best Paint Sprayer For A Car?
It is essential to keep the paint sprayer clean for the best performance every time. When you have finished your job, immediately clean it, following the proper techniques. It will help you keep your paint sprayer like new and protect it from running out.
You may need some cleaning before starting your job. But it is a must to clean the paint sprayer after use. Even leaving it for a couple of hours after using it can harm the sprayer. Once cleaned, ensure it is adequately dry before storing.
What Is The Best Automotive Paint Gun For Beginners?
HVLP Spray guns are the best type of guns for car painting jobs. But for beginners, it may be hard to control the functioning of such high quality. A 1.8mm nozzle with a gravity feed of more than 4000 is easier to use for beginners.
You can find many paint guns in that range but make sure you have chosen the trusted brand for quality performance.
Such high-quality performing spray guns are suitable for skilled and beginner painters to get a fine job.
Can You Use A Graco Sprayer To Paint A Car?
Yes, painting a car with Garco Sprayer is possible. You will undoubtedly need to use your elbow during work, but it can give you an excellent painting experience.
It may be hard to use an airless sprayer like Garco Sprayer to get finely atomized mist. But if you use more reducers in the paint and apply more coats, you may get a fine finish in the end.
Can You Paint A Car With A Wagner Hvlp Sprayer?
Yes, Wagner Hvlp Sprayer is a suitable choice for painting the car. It comes with a portable spray system that offers flexibility for applying the coatings to Cars. They are designed so you do not need to add any other equipment while painting the car.
Wagner hvlp sprayer contains a powerful motor that makes it perfect for high-quality paint jobs. Because of excellent specifications, you not only paint a car but also finish your automobile painting job quickly and perfectly.
Can You Paint A Car With A Hvlp Sprayer?
Yes, hvlp sprayers are one of the most recommended sprayers for car painting tasks. HVLP sprayers are high volume, low-pressure paint guns powered by vacuum or fans that make them acceptable for exterior painting projects.
Hvlp sprayers perform an excellent job, but they also ensure no excess paint onto the car's surface. With efficient transfer features, it allows you to make paint coating smooth and help you to apply over the car surface evenly.
Can You Use An Airless Paint Sprayer To Spray A Car?
It is not the hot choice but can occasionally help you paint the car. An airless paint sprayer takes a lot of effort while painting the car. You need to add different equipment and apply several techniques while painting auto vehicles.
It is almost impossible for a beginner, but the professional may find the best way to use it for car painting assignments. The airless sprayer can be used for a car, but it cannot produce the finely atomized mist.
Are Airless Paint Sprayers Good For Cars?
We do not recommend car paint when it comes to airless paint sprayers. These can be used but need a lot of effort, equipment, and skills that are not possible for most painters.
So you should avoid its use for auto vehicles as much as possible. But in an emergency, you can use it, but it demands more coats to get a fine finish.
Why Should You Select The Best Airless Paint Sprayer For Cars Instead Of An Ordinary Electric Car Paint Sprayer?
An airless paint sprayer is not highly recommended for automobile painting jobs, but it is better than a standard electric car paint sprayer. The reason is that an ordinary paint sprayer is perfect for smaller projects such as complex configurations or for less viscous.
But the airless sprayer works with the support of a pump that ensures sufficient flow of paint at a very high pressure to coat the surface evenly. It can be a good choice for car paint if you know how to use it for exterior surface paintings.
Can You Paint A Car With An Electric Paint Sprayer?
Yes, an electric paint sprayer can be used for painting a car. You can do it in a better way than painting with a brush or rollers. You need some effort to finish your job, but it is easy to handle for beginners.
An electric paint sprayer can get perfect car painting if appropriately handled by supplying sufficient pressure and airflow.
What Are The Prices Of Paint Sprayers For Car Paint?
You may see differentiations depending on the quality features and brand. But in, the average market price for paint sprayers for car paint ranges from $50 to $ 300. You can find high-quality costly paint sprayers equipped with the best features.
If you are not a professional worker, you can buy the lower-end costly paint sprayer for $50 to $100. But an inexpensive paint sprayer comes with a small canister that needs refilling again and again when projects are bigger.
How Many Psi Do You Need To Spray Paint A Car?
If you want to get the perfect finish, 26-29 psi are enough for the car painting job. But for a base coat or clear coat, you can adjust psi to 20 to 25 psi.
What Size Air Compressor Do You Need To Paint A Car?
You can use any size, but there is a problem with a smaller size air compressor that is not good for big projects like cars.
For car painting, a 20-30 gallons size air compressor is sufficient and provides excellent results.
Some painters also use a 15 gallons compressor, but it is only fit when you need to paint small parts of the cars like bumpers covers, carcasses, etc.
You should arrange between 20 to 30 gallons of compressor size to get a smooth finish.
Final Words
While getting the best paint sprayer for cars might sound an arduous process, it's an absolute necessity. Unless you get the most suitable spray gun for your project, you won't be able to get the paint job that you desire.
The catalog above depicts the very best that you can get, and following it will save a lot of your time. So, get the right spray gun for yourself now!