5 Best Circular Saw Blade for Pressure Treated Wood in 2022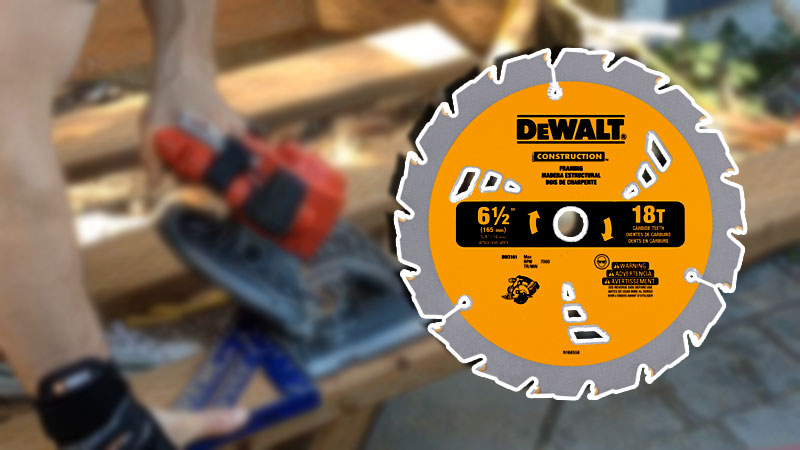 Are you someone who works with plywood or high pressure-treated wood? When working with these or most other materials, you not only need a good circular saw but also a good saw blade, otherwise, you are exposing yourself to some potentially dangerous situations.
What you need is the best circular saw blade for pressure treated wood.
So if you do not own a good one, no need to worry because I have got you covered, after spending hours researching, seeing what works and what does not, going through customer feedback, I was able to come up with 5 great saw blades that can be just what you need.
I have also included a buying guide to let you know about what factors to look for, which you can use to find just the right product for yourself.
BEST OVERALL
DEWALT DW3196
Clean and precise cut
Anti-stick coating
Slim kerf
Tough tungsten carbide body
BEST BUDGET
DEWALT DW3174
Very affordable
Precise and clean cuts
Ribbed vents
20 durable carbide teeth
BEST PERFORMANCE
FREUD LU83R010
50 sharp teeth
TiCo high-density carbide combination blend
Laser cut
Perma-Sheild non-stick coating
Review: The Best Circular Saw Blade for Pressure Treated Wood
A good circular blade should allow you to cut anything laminate flooring, hardwood, and pressure treated wood with complete ease. And that is what this list of 5 reliable products is all about. So without any further ado, let us get to it!
1. DEWALT DW3196 7-1/4" Circular Saw Blade: Best Overall
The first product we will be looking at is the DEWALT DW3196. DEWALT is a very well-known company when it comes to making power tools and hand tools. Their products are popular because of their reliability and performance, and this particular model is no different.
First of all, this thing has a very tough tungsten carbide build. That makes the product very durable and makes sure it stays sharp for a long time. Friction due to the surface can really interfere when you are trying to make a clean and smooth cut.
However, you will not have to worry about that with this thing, thanks to the anti-stick coating it has that has been specially formulated to reduce friction so that you get smoother cuts.
The manufacturer of this product made sure to include ribbed heat vents so that the blade can run much cooler and without bending. It has a very thin kerf, which means you get faster and smoother cutting action.
This 7-1/4 circular saw blade for wood is the best overall that you can find on the market. It makes very precise cuts, you will not find any jagged areas if you make a clean cut. This may not be the cheapest option out there, but it is worth every penny!
Pros
Very clean and precise cut
Has anti-stick coating to reduce friction
Slim kerf for quicker and smoother cutting action
Tough tungsten carbide body
Cons
2. DEWALT 7-1/4" Circular Saw Blade for Pressure Treated Wood and Wet Lumber: Best Budget
Now we have another DEWALT product on this list. The DW3174 is an incredible blade that is ideal for pressure treated wood and wet lumber.
You will find that the blade is great for cross-cutting pressure treated wooden boards. This 0.5 pound product is made of tough tungsten carbide with 20 sharp and highly durable carbide teeth. Even though this thing is specially designed to cut wet and pressure treated lumber, it works great on plywood and hardwood as well.
This thing has an anti-stick coating over it which does an excellent job minimizing the friction and provides smoother cuts. The blade is also quite thin, so it allows quick and clean cutting action. Thanks to the ribbed heat vents, you will not have to worry about the blade heating due to friction. So it runs much cooler and reduces the chance of bending or binding.
You will find that this blade makes any cutting job absolutely effortless. Despite the incredible performance and build, this is also one of the most affordable circular saw blades for wood on the market right now.
Pros
Very affordable
Extremely sharp blades provide precise and clean cuts
Ribbed vents help blade run cooler
Features 20 durable carbide teeth
Cons
Not best for heavy-duty cuts
3. Freud 10" x 50T Thin Kerf Combination Blade (LU83R010): Best Performance
Are you looking for a blade that will allow easy cross-cutting and ripping pressure treated lumber? Well then, in that case, the LU83R010 is just the thing for you!
With its 10 inch diameter, this blade features 50 sharp teeth that make incredibly precise cuts. To give you the best performance, this thing has a high-quality TiCo high-density carbide mix blend.
The blend formula helps the blade to maintain its sharpness even when exposed to a number of applications. Since the product has a very thin kerf, it does not require a lot of power and provides quick and smooth cutting action.
An issue that you may face a lot with a bad saw blade is jagged areas after cutting. However, that will not be a problem with this particular model since it features laser-cut and anti-vibration slots which means it minimizes vibration and prevents sideways movement.
So not only will the blade last a long time, but it will also give you some very clean and precise cutting action.
This product is able to withstand a lot of heavy usages. It features a 5/8 inch Arbor and Perma-Shield non-sticky coating that does a great job minimizing drag and provides protection against corrosion.
Pros
Comes with 50 sharp teeth to make precise cuts
TiCo high-density carbide combination blend add durability
Laser cut reduces vibration and minimizes noise
Perma-Sheild non-stick coating minimizes drag
Cons
May burn wood if you pause while ripping
4. Bosch DCB1072CD 10 In. 72 Tooth Edge Circular Saw Blade for Composite Decking: Best Power
Here, we have the Bosch DCB1072CD, which is one of the finest circular saw blades for laminate flooring as well as composite decking. If you are looking for a reliable blade for your sawing machine, this is just the thing for you.
First of all, the blades here are made of Brute Carbide, which is an enhanced formulation of C3/C4 micro grain carbide.
This means that the product will have greater resistance against damaging impact for a longer amount of time. It also has an extra-tough steel body that makes the blades resistant to bending during cutting and ensures precision.
You will get a lot of fast and clean cuts with this thing as it has a very thin kerf. It has 72 sharp teeth, which means you get a very smooth cutting action with this one.
The manufacturers of this product want you to have the best performance and end results, which is why they designed the triple chip grind geometry for the tooth. This ensures you get top-notch finishing even with very abrasive materials.
Overall, this is one of the best blades that you will find on the market right now. Not only does it provide you with excellent performance, it is also incredibly durable.
Pros
Thin kerf provides fast and clean cutting action
Specially formulated Brute Carbide construction resists impact
Comes with 72 sharp teeth for smoother cuts
Opposes bending and deflection
Cons
May be a bit expensive for some
5. Diablo D0724A 7-1/4" 24T Diablo Circular Saw Framing Blade: Best Value
The last product that I have on this list is the Diablo D0724A, and it is the best value for the money. And the blades by Freud Diablo are ideal for both professional works, as well for hobbyists.
If you are looking for some 7-1/4 circular saw blade for concrete, pressure treated wood, and plywood, this can be just the thing you need. The blade has carbide tips with 24 sets of teeth. It is also well ventilated, which means there is less vibration during the cutting process.
With this, you also get a much faster, smoother, easier cutting action. You will not have to worry about splinters or jagged areas after cuts with this particular product. It will leave your projects with a smooth finish to give them a more professional look.
Overall, this is a top-notch product that deserves all the praise it gets. This is a pretty reasonably priced blade that works well with not only circular saws, but also table saws.
It features a shield coating that works to reduce friction, however, the coating may get rubbed fast.
Pros
24 carbide tipped teeth
Ventilation on blade minimizes vibration
Prevents splinters and jagged cuts
Gives a professional looking finish
Cons
What to Look for Before Buying?
Now that you know all about these products, next we are going to talk about the things that you have to consider before getting yourself one of these. Below I have put together a list of all the factors that you should consider if you want the best saw blade.
Size: The first and most important thing to consider is the size of the blade. Your blade should not be too large or too small for your power saw. Make sure to check for a compatible size before you make a purchase to ensure you get a perfect fit.
Functionality: Next, you have to think about the function of the blade or what type of work you want to do with it. Different blades are suited for different types of materials and work.
Do you want the best circular saw blades for cutting aluminum, or plywood, or some other type of material? Ask yourself these questions before you make a choice.
You should also think about the type of work you will be doing. A cross-cutting blade consists of a lot of small teeth, which is great if you want to cut wood or lumber across the grain.
Rip cutting blades, on the other hand, have fewer teeth, and they let you cut wood along the grain. On the other hand, combo blades serve as a multi-purpose blade that you can use for a variety of materials and types of work.
Kerf: The kerf refers to the thickness of the blade. A thin kerf allows you to cut faster and yields smoother and finer-looking results. On the other hand, a thick blade will likely last longer and will go a long time before you feel the need to sharpen it.
Arbor: Make sure the arbor of your chosen blade is compatible with the shaft design of your saw. If they do not match, you will have a difficult time working with the blade, and it will take more time and effort to achieve your desired results.
Number of Teeth: Different blades come with a different set of teeth. Think about what type of material you will be using and what type of work you will be doing. If you intend on working with soft materials, look for something with fewer teeth. However, if the materials are hard and sturdy, get something with a larger number of teeth.
Coating: The manufacturers of these blades make sure to add a coating over them to protect them against friction and regular use. It also prevents build-up on the blade and ensures years of usage.
Frequently Asked Questions
Is more teeth on a saw blade better?
The speed of the cut and what type of materials you can use depends on the number of teeth on the blade. A greater number of teeth means you get a smoother finish, while fewer teeth mean you get it done faster.
What type of blade makes the smoothest cuts?
Most of the blades you see that are made of either carbide or stainless still do an excellent job making smoother cuts.
Can you rip with a crosscut blade?
Crosscut blades are better suited for cutting short-grain wood. However, if you want something that can serve multi-purpose, you can go for the combination blades.
Why does my circular saw blade burn wood?
This can be due to a bad blade. A dull blade does not allow you to cut quickly, so the feed rate will be slow, which can lead to more friction and hence, burn marks.
What is the most popular size for a saw blade?
The 7-1/4 inches is the most popular size for a blade.
Final Words
Making sure you have the right blade for your sawing machine is very important. It determines how fast you will be able to work, as well as the quality of your project and how it will turn out. I hope this article on the best circular saw blade for pressure treated wood would help you find just that.
If I had to pick one, I would suggest you go with the Dewalt DW3196. It is an excellent blade that will not only offer you incredible performance but it will also last a very long time. Do go through the buying guide one more time before you make a purchase so that you can see which type of blade will be right for you.