8 Best Floor Jack for Lifted Trucks of 2022 – (Buying Guide)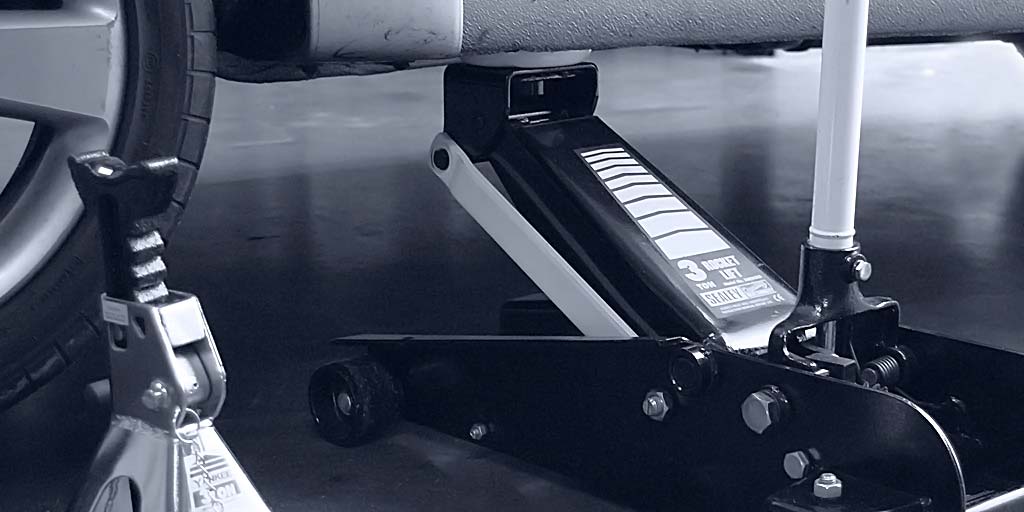 You are driving on the way to the grocery shop for buying some items. Before you went too far, you realized the car isn't behaving normally rather it's kind of stumbling.
The first thing that came to your mind is that may be the problem is with the tires. That's why you stopped the car to inspect them. And your hunch turned out to be true. Both the front and back tires are leaked. You need to change them and changing tires need a lot of time and effort.
But, if you have the best floor jack for lifted trucks, you can do that quickly and effortlessly. Besides, you can do other maintenance work with the help of a floor jack too. Therefore, stick with us till the end to get the one that is suitable for you.
Top 8 Best Floor Jack for Lifted Trucks
It won't be fair if we say that it was too difficult for us to find a floor jack. But it wasn't as easy as ABC either. Our experts went through a lot of major and minor details of every model to get the perfect ones. We also talked with experienced mechanics to re-confirm our picks. So, check them out.
1. Best for Fast Lifting: Blackhawk Lift Service Jack B6350
It's very advantageous to have a floor jack for cars and trucks that is durable and, most importantly, can do the lifting pretty fast. Well, that's the reason we bring you the B6350 lift service pack from Blackhawk.
To start with, this beast right here is made of heavy-duty steel to make it sturdy and enduring – giving it 85-pounds of weight. Well, you can easily guess by now that how powerful this jack is.
Having 3.5-ton of load capacity, it boasts fast lifting technology to do the lifting as quickly as possible. Besides, it offers a lifting range from 5.5-inches to 22-inches – allowing you to work under the car effortlessly, and you can even replace large tires too.
Plus, B6350 from Blackhawk includes safety features like an inbuilt bypass to prevent over-pumping. It also has a safety valve so that the jack doesn't get overloaded by accident. With this jack, you'll feel pretty safe.
It's important to mention that along with a minimalistic design, it comes with a polished black round-shaped saddle. As a consequence, you'll get an easy jack position. In addition, there're two small casters on the front and a big dual caster on the back so that you can move it freely.
Highlighted Features
Durable owing to made of steel
Fast lifting technology for quick lifting
Prevents overload by the safety valve
Swivel saddle for extra convenience
Provides mobility by the casters
2. Best for Affordability: BIG RED Torin T83006
Sometimes we feel the need for a quality floor jack for pickup trucks, but often we can't afford it. No worries, you can get the top-quality Torin T83006 from BIG RED at a reasonable price. We bet that you'll be lured by its tons of features.
Just because you get it at a low price doesn't make it a trashy one. Rather, it's a durable jack made of industrial quality steel that will go a long way. In that way, it'll save money too.
You'll be glad to know that it can easily lift your pickup truck at ease, thanks to its 3-tons lifting capacity. Well, it can lift from a minimum of 5-⅞ to a maximum of 20-⅞ inches of height – making it one of the best 3-ton floor jack for trucks. It'll be a great purchase for you.
If you're planning to work on more than one car back-to-back, your jack must need to lift quickly. Guess what, this T83006 from BIG RED integrates a single-piston lift pump so that you can easily and quickly jack up your truck.
It's important to mention that it weighs 49 lbs. and has 6-inches of flattened height. Thus, you can take it anywhere by using its inbuilt carrying handle and place it beneath high profile vehicles at ease.
Plus, moving it is as easy as pie, as it's equipped with two 360-degrees swivel casters along with two 24.5-inches large steel casters. Besides, you'll find it easy to work on a large vehicle by its large saddle surface.
Nonetheless, this jack has a built-in overload protection valve so that you don't get caught in accidental situations.
Highlighted Features
Made of industrial quality steel for enduringness
6000 lbs. lifting capacity
Can quickly jack up vehicles by the single piston lift pump
360-degrees swivel casters for ease of mobility
Overload protection valve to prevent overloading
3. Best for Portability: Arcan ALJ2T Floor Jack
Looking for the best portable truck jack? Then, what else can beat the aircraft-grade aluminum made ALJ2T floor jack from Arcan. Due to this material, it's pretty lightweight.
It comes with 2 side handles, allowing you to move it easily and quickly. In addition, this is a very durable floor jack that will undoubtedly last for years. So, you won't need to go in search of another one pretty soon.
As it stands, this ALJ2T from Arcan has a low-profile design, which means that you can get it under the lowest vehicles of yours at ease. And it's important to mention that it has a 2-ton weight lifting capacity.
Now, this aluminum floor jack for trucks offers a decent lift range from 3 ½-inches to 19 ¼-inches height. As a result, you'll be able to work in a sports car as well as an SUV with no trouble.
Besides, you won't have to wait for too long to jack up your car. As it boasts a dual pump piston, you can raise your car pretty quickly. It also has a large anti-slip saddle to protect your car and do the lifting more securely.
Moreover, this floor jack incorporates overload valves so that you don't push it to its limits accidentally. Not only that, but it also has bypass valves to minimize the chances of over pumping.
Highlighted Features
Lightweight due to the utilization of aircraft-grade aluminum
Easy to carry by the 2 side handles
Fits under the lowest vehicle owing to the low-profile design
3 ½ to 19 ¼-inches lift height for working swiftly under any car
Dual pump piston for quick lifting
Provides safety by overload and bypass valves
4. Best for DIY Enthusiasts: Powerbuilt Triple Lift Jack 620422E
Keeping all of those transmission jacks, ATV jacks can make your garage a bit messy. Well, you can kick all of them out by getting the Triple Lift Jack 620422E from Powerbuilt. You're going to love this simple and efficient tool.
Whether you have a small truck, a jeep, or a large car, this jack alone is enough for them. As it comes with 4000 lbs. of lifting power that exceeds ANSI standard, you won't need anything else.
On top of that, it's made of high-quality steel, which makes it a long-lasting jack. You, therefore, can use it under the most adverse condition with peace of mind. As well, it offers a lifting range from a minimum of 5 ¼-inches to a maximum 17 ¾-inches height.
You're going to love the features that we're going to tell you about this floor jack. It features padded lift rails for lifting a motorcycle. Not only that, but it also has a removable lift saddle for lifting a car. And you can change them within a snap.
Aside from that, Triple Lift Jack from Powerbuilt integrates tie-down loops. This is going to keep your motorcycle stable and secure when you lift it for servicing.
With this floor jack, you won't be needing any jack stands for supporting your lifted vehicle. Thanks to its locking safety bar, it'll hold the jack in place when it's raised.
If your hydraulic floor jack for trucks is unstable while lifting loads, then it's going to be risky. Well, no worries, as it has a wide base, you'll get the utmost stability.
Moreover, there are swivel casters with ball bearing so that you can maneuver this jack painlessly.
Highlighted Features
Ensures durability by using high-quality steel
Tie-down loops to provide stability to the motorcycle
Replaces the need for jack stands by locking safety bar
Wide base for providing stability
Offers maneuverability by the ball bearing casters
5. Best for Low-Profile Car: Pittsburgh Automotive Floor Jack
Some have an unusually low-profile car where a regular floor jack fails to do its work. And if you're one of them, you can consider this floor jack from Pittsburgh Automotive.
If your car has at least 2.875-inches of space, then this jack will be able to fit in perfectly. So, whether you have sports automobiles or racing cars, this is the one you should go for.
Well, since a jack is going to lift your car, it has to be structurally strong and sound. As it stands, this floor jack is made of high-grade steel; thereby, you can wave your worry away concerning its durability.
Plus, it has a 3-ton weight capacity making it a perfect floor jack for tall trucks too. Besides, it offers a brilliant 19.75-inches height capacity so that you can slide under your car for doing complex repairs at ease. Don't forget to place the jack stands before you go under.
Most importantly, it's in the spotlight for its dual-parallel pump mechanism that'll help you to lift your vehicle with fewer pumps. Aside from that, you can get it to its maximum height with only 3.5 pumps, thanks to its rapid pump technology.
It'll give you full control over how fast or slow you want to lower your vehicle. And you can even twist its handle to stop lowering your vehicle. What else can you ask?
Nevertheless, you'll get maximum stability while lowering the loads, thanks to its universal joint release as well as wide caster wheels.
Highlighted Features
Sturdy and tough owing to made of high-grade steel
6000-pound lifting capacity
Dual-parallel pump for fast raising
Requires fewer pump by the rapid pump technology
Wide caster wheels to provide stability
6. Best for Weight Capacity: Pro-LifT G-737
If you have a vehicle that weighs more than other vehicles, then you must take the G-737 from Pro-LIfT. It has a huge weight capacity along with convenient features that'll make your work easier.
What do you have in your garage, a truck, or a Jeep Wrangler? No problem, this floor jack comes with a 3 ½-ton weight capacity. As a result, you can lift up your vehicle at ease to do whatever fixing and servicing you need.
Unlike others, it is equipped with a rubber saddle on top. You, therefore, can have the peace of mind that it won't dent or bent your vehicle while lifting.
Plus, control is vital when you jack up your car. Well, since the G-737 boasts a universal joint release system, you'll have brilliant control and precision while using it.
Have you ever faced problems finding small parts when working under your car? With this floor jack, you're going to get a magnetic tool tray in which you can keep any small parts close to your reach.
Besides, you've to pump it to lift your car, which can be tedious if the handle is hard. That being said, it has a foam handle; thereby, you'll feel comfortable while pumping it.
Further, its rolled side frame is very enduring that will prevent it from twisting while lifting your heavy vehicle.
Highlighted Features
3 ½-ton weight capacity to lift heavy vehicle
Protects the vehicle by the rubber saddle
Universal joint release system to provide maximum control
Magnetic tool tray for extra convenience
Prevents hand fatigue by foam handle
7. Best for Durability: Liftmaster Heavy Duty Floor Jack
Looking for a hydraulic floor jack for trucks? Then you can't go wrong with this heavy-duty jack from Liftmaster. Though it has a simple design, it can perform way beyond your expectation.
Well, the title heavy-duty suits it the best, as it's made of high-quality steel. So, no matter how tough or challenging the condition you're in, you can use it with inner peace.
Are you breaking out in cold sweat thinking whether this jack can go under your low-slung vehicle or not? Don't need to worry, as it comes with a three-inch profile design, it'll slide beneath very easily.
And when this floor jack has gone under, you can then lift up your car effortlessly, thanks to its dual pump hydraulic mechanism. Besides, it has 6000 pounds or 3-tons of weightlifting capacity, making it suitable to use for any vehicle.
Plus, it can raise your lowered vehicles at 3-inches of height without difficulty. And if you use it for lifting pickups or SUVs, it can raise them to a maximum 19.7-inches height. So, you'll get ample room to work below your car.
Well, we think that the jack lifting process should be less strenuous. And guess what, the Liftmaster think alike. That's the reason it integrates a knurled steel handle along with foam protectors. Thus, you'll feel comfortable working with it.
Aside from that, it shows off a saddle that has a textured rubber pad to hold your vehicle up in the air with utmost stability.
Highlighted Features
Top-quality steel for providing robustness
Three-inch design to effortlessly slide under the low vehicle
Dual pump hydraulic mechanism for lifting painlessly
Offers comfort by the knurled steel handle
Saddle with textured rubber pad for giving stability
8. Best for Stability: BIG RED Torin T82001
Often after buying a floor jack, you've to go searching for a pair of quality jack stands. Well, you can say bye to those searches if you get your hands on this Torin T82001 combo from BIG RED.
Yes, you'll get two jack stands with this floor jack. And since you're getting the essentials for lifting your cars, you can start working instantly after getting it out of the box.
Plus, the jack is made of heavy-duty steel so that you can use it for as long as you want. With a weight capacity of 2-ton, it can lift your vehicle from 5 ¼-inches to a maximum of 13 3/8-inches in height.
Not only the jack but the jack stands also offer adjustable height – ranging from 10 13/16-inches to 16 9/16-inches. Above all that, each jack stand has a pyramid-shaped wide foot base so that it can support your vehicle strongly and keep it stable.
And when you need to take this T82001 from BIG RED somewhere else, you can simply do that by holding its inbuilt carrying handle. There are two 360-degrees swivel casters along with two large steel casters so that you can guide it at ease.
Aside from that, it integrates a bypass system so that you don't overburden it unknowingly. That way, you know that you're safe during the operation.
Highlighted Features
Strong and sturdy due to heavy-duty steel
Includes two jack stands for supporting vehicles
Offers portability by built-in carrying handles
Casters for easy maneuverability
Ensures safety by the bypass system
Things to Consider Before Buying
Before you press that buy button for the product you liked, you need to check out some of the essential factors. If any of them doesn't exist, then you'll likely regret it later. That's why we urge you to keep those factors in your mind that are mentioned below to grab the best jack to keep in truck.
Construction
It's the most important factor that you need to look for while getting a floor jack. You need something that is durable and tough as you're going to use it for heavy jobs.
That's why you better go for tools that come with a strong jack stand. It's essential that it's made of strong metal; otherwise, it won't be able to deliver a good performance.
Well, the best portable floor jack for trucks are the ones that are made of aluminum, as it's a sturdy as well as lightweight metal. But it's going to cost you more.
You'll also find jack stands made of steel, and they are quite affordable. Though it's also a strong element, it makes them a little heavier.
Weight
See, floor jacks are pretty heavy equipment. Most of them weigh between 50 to even 100 pounds. So, if you get something that is way beyond your capacity to move, you will get tired quickly. That's why you need to choose a floor jack that you can move easily around with you and do your work at ease.
Lifting Capacity
For lifting a truck, jeep, or any other heavy vehicle, you need a powerful floor jack. If you have a lawnmower to work on, you can go for a typical one. But when it comes to lifting a truck, you've to take a floor jack that has the power to let you do the work securely and easily.
Speed of Jacking
Jacking speed is one of the most vital factors to consider in a floor jack if you're always on the go. Because in the middle of a road, you can't spend hours just to lift your truck. While some floor jacks can lift quicker, there are others that are comparatively slower.
However, if you only wish to work in your garage, jacking speed won't be much of an issue for you. Therefore, you should get a floor jack depending on where you mostly plan to work.
Safety
Undoubtedly, safety is a major concern, no matter what type of tool you use. And specifically, when it's a floor jack that's going to lift your truck, you must ensure that it's stable enough. Otherwise, you'll always be in a scary feeling under your car, which, in turn, will hamper your work.
Frequently Asked Questions
What floor jack should I buy?
Suppose you need 3100 pounds or 1 ½ ton for the front, you should get a floor jack that has the ability to lift 2 or 2 ½ tons. Therefore, you need to find it out how much your vehicle weighs and how much lifting capacity you're going to need.
What size floor jack should I buy?
If you have a high-profile vehicle, you should choose a bottle size floor jack. On the other hand, if your vehicle has normal or medium heights, any type of floor jack will do the work. Just make sure that the jack gets to adjust to the jack point accurately.
How much can a 2-ton jack stand hold?
A pair of 2-ton jack stands, if placed under the same side of a car, can hold 4000 lbs. or 2 tons of weight.
How much weight can a 3-ton jack stand hold?
As a pair, 3-ton jack stands have a holding capacity of 6000lbs. of weight. So, if you're lifting only the front of your car, rear tires will still be holding a thousand pounds.
How much can a 2-ton jack lift?
A floor jack has to be rated for a minimum of three-quarters of the gross weight of a vehicle. Thus, a 1 ½ ton jack can lift up to 4,000 pounds of weight. In that sense, a 2-ton jack can lift weights up to 5000 pounds easily.
Can a hydraulic floor jack be repaired?
A hydraulic floor jack works by compressing the fluid through the cylinders. If you found that it's not working properly, you can repair it by using some basic tools pretty easily.
Can you use ATF in a floor jack?
Industrial hydraulics use hydraulic oils that are petroleum-based, and ATF is very similar to them. So yes, you can use ATF in a jack.
Can you move a truck with a floor jack?
Yes, you can move a truck with a floor jack by placing it beneath the front structural section that is made of steel. And keep the handle of the jack near the direction in which you want to move. Then pull the jack handle to move your truck.
Can I use hydraulic oil in a floor jack?
Yes, you can use hydraulic oil in a floor jack. Other than that, motor oil, p/s fluid, and ATF will work if need be.
Can I use a floor jack on pinch welds?
It won't be wise to use floor jack on pinch welds, as they aren't the right jacking points.
Can I use brake fluid in a floor jack?
A floor jack works by using hydraulic oil ISO 32. So, if you use brake fluid, motor oil, or tranny oil, it'll disrupt the seals.
Final Verdict
Look, it's not that you're going to die but still, people get hurt due to using cheap jacks. Now, you definitely don't want to take the risk knowingly under an unreliable floor jack.
During our research, we not only looked for durability, but safety was also our central concern. That's why you can trust our recommendations regarding the best floor jack for lifted trucks.