6 Best Tongue and Groove Pliers in 2022 (Buying Guide)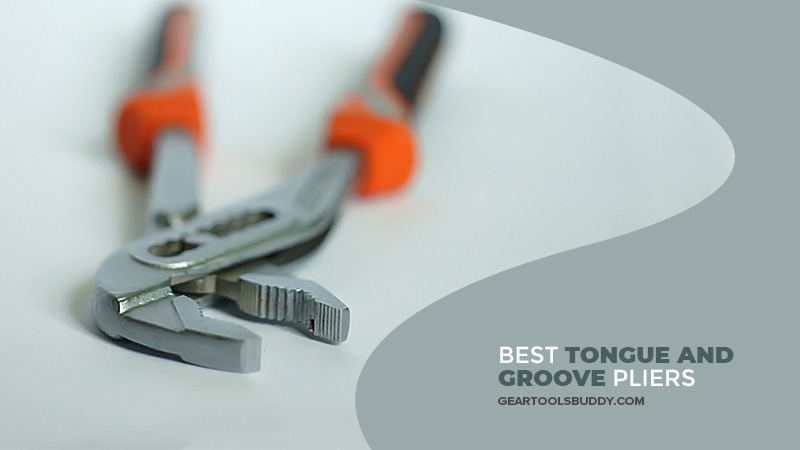 I've always found it essential to keep a set of tools on hand at all times. You never know when you might require a DIY fix. It's a habit that should be maintained, and to some extent, people do seem to try. However, the one tool that always seems to be missing from toolbox sets is good pliers.
You may believe that these pliers are an unnecessary addition to well-equipped toolbox sets. However, that fails to account for the number of situations the best tongue and groove pliers can get you out of. These pliers are meant to deal with almost anything, be it related to electricity, plumbing, or even your furniture.
Thus, this one plier that serves it all is a must-have for all households. Not only does it make other tools obsolete, it further means you don't have to spend as much on your toolbox set.
The Best Tongue and Groove Pliers
A plier isn't the most challenging product to manufacture, so you'll find a large list of brands when you go shopping. If it seems a bit overwhelming, and you can't seem to differentiate between the good and bad. Here's a list of pliers that you're in no way going wrong with.
1. Channellock GS-3 3 Piece Straight Jaw Tongue and Groove Pliers Set : Best Overall
Not sure about what you'll be working on? Wanna have a plier on hand at home, just in case? Well, then the Channellock GS-3 is the perfect pick!
The pliers are well-recognized for their all-rounder capabilities, including building quality, features, design, or even affordability. It is the everyday driver, a plier set that you can rely on for every job.
Included in the pack, you get a three-piece set of pliers measuring 6.5", 9.5", and 12". These sizes are relatively on a universal scale, so they should be able to help you in most situations.
Plus, each plier is adjustable, with varying capacities of adjustments, 5, 5, and 7, respectively. Thus, providing a wider working space for each wrench in the set, increasing their uses.
Made using high carbon steel, provide the tongue and groove pliers with immense strength. Thus, ensuring superior performance from the tools, the strength of the material also reduces the chance of breakage and failure under stress.
Furthermore, the pliers are coated with an electronic coating, minimizing the chances of any rust forming on the pliers' overtime.
Additionally, for safety concerns, the PermaLock fastener has been added onto each plier, ensuring no Nut and Bolt failure occurs while you work. For better gripping, the tongue of the straight jaw has been given a unique undercut design.
These grooves ensure a strong and very secure grip that enables you to work on multiple surfaces.
Pros
Built using high-carbon steel provide immense strength
Versatile adjustable three-piece plier set
Include PermaLock Fastener for improved longevity
Teeth come with a unique undercut design and laser heat treating
Comfortable handles for improving workflow
Cons
Cheaper pliers available in the market
Not the best when it comes to specialized work
2. CRAFTSMAN Pliers, 8 & 10-Inch, 2-Piece Groove Joint Set (CMHT82547) : Budget Pick
If you're not invested in having a tongue and groove plier or feel there isn't much use that can be derived from then! Then there isn't much of a reason to buy a high-quality, expensive piece.
Instead, you can pick something far more affordable but can get the job done; and this two-piece set from craftsman falls perfectly into that category.
In the pack, you get a set of two pliers, one measuring at 8" and another at 10". Furthermore, each plier is adjustable; therefore, you should be able to work on a wide variety of materials without much of an issue.
Additionally, the multi-zone bi-material grips create a reasonably comfortable gripping surface, which further improves control as well.
Although these pliers are relatively on the cheaper end of the spectrum, the manufacturer has ensured to include good quality material. The plier's drop-forged build makes the pliers able to handle heavy-duty scenarios. Plus, the added high-grade steel further prevents the pliers from developing rust and degrading with time.
The pliers have been included with a curved jaw to improve the plier's gripping and ensure efficient work.
Curved jaws further make sure that the plier can work as a pipe wrench or electrical wrench to ensure you get the most use from the product. Additionally, precession machine jaws on the product further allow improved gripping and better longevity.
Pros
Available in a set of 2 of 8" and 10."
Relatively low prices make the product have greater value
Made using extreme drop-forged steel for greater strength
Precision made jaws capable of tight and long grips
Comfortable to use with the added extra controls
Cons
No safety mechanism included
Plier is not specialized in any process
3. Crescent 2 Pc. Grip Zone Tongue and Groove Dual Material Pliers Set 10" & 12" – RT400SGSET2 : Best for Plumbing
May it be to mend a pipe or work on a water pump, tongues and groove pliers should be able to get tasks like this done with ease. And with the Cresent Grip Zone pliers, this is quite easily achievable. This two-piece set of pliers have been designed keeping in mind the difficulties involved in working with water, making them a great plumbers friend.
The most obvious thing that stands out with this plier set is its unique jaw shape. Curved jaws shaped like a V allow the plier to put greater force when holding onto pipes and other rounded material. Each tooth on the jaw has further been angled with the same V-shape design, further tightening the grip and avoiding slippage issues.
For improved longevity, the manufacturers seem to have designed the pliers with an alloy-steel build. This material, paired with the induction-hardened teeth we talked about before, made a robust product. Furthermore, the pliers are coated over with a layer of black oxide finish keeping them from rusting and helping them last longer.
The 10" and the 12" pliers you get with this set are the perfect sizes for working with pipes and fittings. Additionally, these pliers can be adjusted as well, so you should have no trouble with the size of the pipe.
As an extra addition, the pliers come with a non-marring pipe grip area, made to be grip on the stainless steel faucets and showers.
Pros
Comes with a black oxide finish to curb corrosion and better longevity
Unique V-shaped jaw design to grip on pipes with greater ease
Angled teeth that can enhance the grip further
Soft Rubber Gripping provided to make holding the pipes easier
Set of 2 pieces 10" and 12" pliers for greater
Cons
Not fit for all purposes mainly specializes in plumbing tasks
Doesn't come with Safety lock features
4. IRWIN VISE-GRIP GrooveLock Pliers Set, V-Jaw, 2-Piece (2078709) : Best For Electrical Work
Irwin is a big name in the electrical industry; it is one of the top producers of Electrical essential tools in the market. Thus, it makes complete sense why the Vise-Grip is one of the best for electrical works. Coming in a two-piece set of 8" and 10" pliers, they provide a wide array of uses and are ideal for the electrical field.
What makes this plier the best in its field, account for more than just the material it is made of. This recognition is something this plier gets due to the features it comes with, one of them being the Press-n-Slide Adjuster.
The Press-n-Slide adjuster allows the user to change the jaw size 2 times faster, resulting in more efficient and productive work.
Quick changing sizes are important when dealing with potentially dangerous elements, thus increasing safety as well. Furthermore, quick changes require a safe locking system which is why this pair of pliers feature what is known as the GrooveLock feature. This feature locks up the pliers even while you're adjusting using one hand.
Material wise, the pliers have been designed to deal with immense pressure, the metal injection molding process makes capable of doing such.
Additionally, the pliers come with a versatile V-jaw with the capability to hold onto flat, square, and round surfaces. So you're not only limited to electrical work and get your money's worth.
Pros
Versatile V-Jaw allows for gripping onto multiple surfaces with ease
Comfortable to hold and Non-Slip Grips
Two-piece set of 8" and 10" adjustable pliers
Pliers have been strongly made with a metal-injection-molding process
Press-n-Slide buttons for quick adjustments
Cons
Not made of high-quality materials such as carbon steel
Pliers are not corrosion resistive
5. GEARWRENCH 3 Pc. Push Button Tongue and Groove Plier Set – 82118 : Best in Quality
Finding the difference between a professional use tool and one that is meant for daily use can get complicated for tools like pliers. These pliers usually tend to look the same and have the same tasks attached to them.
The main difference comes within the material and techniques used to build these tools, helping determine the quality, and this is what Gearwrench targets.
Gearwrench produces some of the best in class tech, using some of the best material in the market. The body of each of these pliers is made with Chrome-Vanadium Steel, one of the best quality materials in the tools industry. These immensely strong pliers are further paired with induction hardened v-jaws for the ultimate strength.
The plier's V-Jaws has been angled to give them a versatile gripping surface; thus, allowing you to hold onto flat, curved, square, and hexagonal surfaces. Furthermore, the jaws are thinner and longer; these long nose pliers allow you to get into tighter spaces, improving functionality.
Since the pack comes with 8", 10", 12" pliers, it should increase the tongue and groove pliers' uses. The adjustable plier is further designed with an easy and quick adjustment push button, allowing you to adjust the size with one hand only.
However, with all that the plier comes with, a high price is attached to it, making the pliers more expensive.
Pros
Available in 3 convenient sizes of 8", 10", and 12."
An extremely strong Chrome Vanadium steel is used
Push-button allows quick adjustments
Induction Hardened V-Jaw grips for slip-free gripping
Angled teeth allow gripping onto multiple surfaces
Cons
A bit more pricey than the other models we covered
Handle grips aren't very comfortable
6. MAXPOWER 3-piece Groove Joint Pliers – Industrial Grade Adjustable Tongue-and-Groove Pliers : Best for Water Pumps
If you're in the plumbing business or work with water pumps, then the best water pump plier is very important for you to have. Maxpower seems to have the perfect piece of equipment just for this case.
This three-piece adjustable tongue and groove wrench had been built specifically for water pumps, adjusting the jaws and grooves accordingly.
The adjustable plier set is available in various sizes of 8", 10", and 12.5", each built according to the usual water pump requirements. Additionally, since the jaw position is adjustable, it allows the pliers to do much more. Deep V-grooves of the plier's teeth ensures that the plier can get a good grasp of whatever it is holding onto.
Since you'll be directly working with water, the wrench comes with tight rubber handle grips. This makes your hold on the plier solid and ensures there are no unintentional slips, which may have caused a problem.
Furthermore, acknowledging the water issues, the pliers are built with noncorrosive material making them extremely durable.
These steel-made pliers on their own are quite strong; their immense durability makes them a goto for most plumbers.
Additionally, the manufacturers have gone their way to ensure you get the value for your money. For this reason, the tongue and groove plier set come included with a roll-up pouch to make them easy to carry and store.
Pros
Comes with a roll-up pouch allowing making the pliers easy to carry
Jaws come with deep V-shaped grooves for improved gripping
Anti-slip grip handles for comfortable and strong handle grip
Come in three sizes for a wider range of work
Built with corrosion-resistant material
Cons
Product has a slightly high price
No safety locking system provided
Things to Consider Before Buying
Buying quality pliers is a task that requires a certain level of experience in the field.; experience does allow people to choose better. However, if you seem to lack that, make sure to go through this buying guide. The guide will provide you all the necessary details to consider before purchasing a set of pliers.
Available Sizes
One of the most basic things you need to make sure of when purchasing a tongue and groove is to understand what you need it for. Suppose you're a professional looking for a plier to perform a specific function.
In that case, you already know the sizes you'll be dealing with. So, all you need to get is a plier that matches your size requirement.
However, if you're looking to have this for general use, or to have a tongue and groove plier for your DIY toolbox, then you have quite the choice to make.
Since you can never be sure what size plier you'll need, it's always best to have an array of sizes available with you. In this case, we will recommend you to take the 3-piece pack with an 8", 10", and 12" plier.
Build Material
Quite immediately after price, you need to look into the material these pliers are made from. This is one of the most important factors to keep in mind. You don't want to get a product with poor quality and the chance of breaking apart while you work.
Instead, we recommend getting a plier made out of carbon steel or chrome vanadium. These are some of the best materials in the tools industry that already come as corrosion resistant. Additionally, the amount of force they can take is exponentially greater than most other products.
Jaw Type
Another place where the material comes into greater importance is the jaw and teeth of the pliers. The V-shaped teeth are the ones doing most of the work, which makes them the most susceptible to deformation. To keep these from getting used up quickly, the first thing you need to make sure about is getting the right material.
We recommend getting induction hardened steel for the teeth; these are exceptionally strong and do not deform easily.
You also need to decide on the type of jaw you want with your product. It highly recommends staying away from flat jaws; although they work well, they are mainly great for opening bolts. Instead, we recommend going for V-Shaped jaws; these are designed to be more versatile, fitting onto round, flat, and even hexagonal surfaces.
How Do You Maintain Your Pliers?
Hand tools are the most important yet overlooked pieces of equipment you might have at your disposal. They may not be paired up with electrical components and may not cost a fortune, but they require maintenance just like any other tool.
Follow these few care tips to ensure your pliers remain functional for a lifetime:
Wipe down the plier with a dry rag and ensure all the gunk and dirt is off the plier.
Next, rinse down the plier with fresh water to further remove deep-rooted gunk from the plier
Once you have the plier all cleaned up, immediately dry it off with a dry towel, and remove all water, to keep it from corroding.
From time to time, add a quick spray of the anti-rust solution onto the plier. A little WD-40 can go a long way in keeping the pliers fresh and smooth at work. Especially put in some WD-40 on the plier's hinges to keep them smooth and moving.
Once the anti-rust spray is applied, make sure you repeat step 3, especially if the plier is made from stainless steel material. The anti-rust solution tends to dry up quickly and leave nasty marks that would be very difficult to remove later.
Tongue and Groove Pliers FAQs
What is an advantage of using tongue and groove pliers?
Tongue and groove pliers tend to have far greater leverage than regular pliers. The longer handles provide a  higher pivot force, allowing the pliers to loosen or tighten bolts at much greater ease than a regular plier.
Are slip joint pliers useful?
Yes, slip joint pliers may be smaller from their looks, but they provide an immense amount of support to DIYers. The plier's smaller stature allows them to be slipped into tighter spaces, making them increasingly helpful.
What is the proper term for vise grips?
Vise-Grip pliers are formally known as locking pliers. This term is well articulated, coming from the grip's ability to lock into one place, with an over-center toggle action.
How do Knipex and Channellock pliers compare?
Knipex pliers have been a big fan favorite of the industry; compared to the Channellock, these are the pliers to go for. Comparing them side to side, you'll find out that the Knipex pliers are thinner and lighter; they are incredibly durable and relatively more ergonomic than products from Channellock.
When using pliers, what should you always do?
Make sure that the right safety equipment is being used while you use pliers or any other tools. Apart from safety, one of the rules you should always follow is using your pliers for their intended purpose. Many use pliers as hammers which ends up doing more damage than being functional.
What are the benefits of slip joint pliers?
Slip Joint Pliers are some of the most basic pliers on the market and one of the most essential pliers for any DIYer to have on hand. The most significant advantage of this tool is its immense versatility, allowing it to do so much more than it is intended for.
What are slip joint pliers used for?
The immense versatility of these pliers provides a wide range of uses, so they're not only meant for gripping. These pliers can bend stock, crimping metal sheets, looping and cutting wires, removing nails.
What is the difference between knipex alligator and cobra pliers?
Knipex alligator pliers and the Knipex Cobra pliers are in a sense very similar to each other, both tongue and groove pliers that perform the same task. The only difference between the two is that the Cobra comes with an additional Quick Release and Lock system, which is not available on the Alligator model
What are the important rules of using pliers except?
While you're using pliers, make sure you do not expose them to excessive heat, this can potentially deform the tool. Also, ensure using the pliers at a right angle while cutting to ensure cleaner cuts.
What are the common faults in using pliers?
One of the most general faults of using pliers that most of us are guilty of doing is using them to loosen or tighten nuts. Pliers should not perform this task, especially slip joint pliers, as their jaws are flexible, leave teeth marks, and tend to slip.
What are cobra pliers used for?
Cobra Pliers are built specifically to handle water pump issues; these tongue and groove pliers are designed to aid plumbers.
Final Words
Pliers are a big part of any professional or DIY worker's toolset! The pliers' versatile nature, paired with the immense strength, ensure the easing of your regular workers' job. However, with the number of plier types available, you need to choose one that is meant for the job you're working on.
If you're a plumber, electrician, or even a general-purpose worker, you know how much a tongue and groove plier can aid you. Therefore make sure when you make your purchase, you only choose the best tongue and groove pliers. We believe this list that we've provided above should narrow down the selection process for you.
However, with the plier lineup that we've provided, we're confident that choosing anyone of these pliers will give you satisfactory results.