Impact Driver vs Impact Wrench – What are the Differences?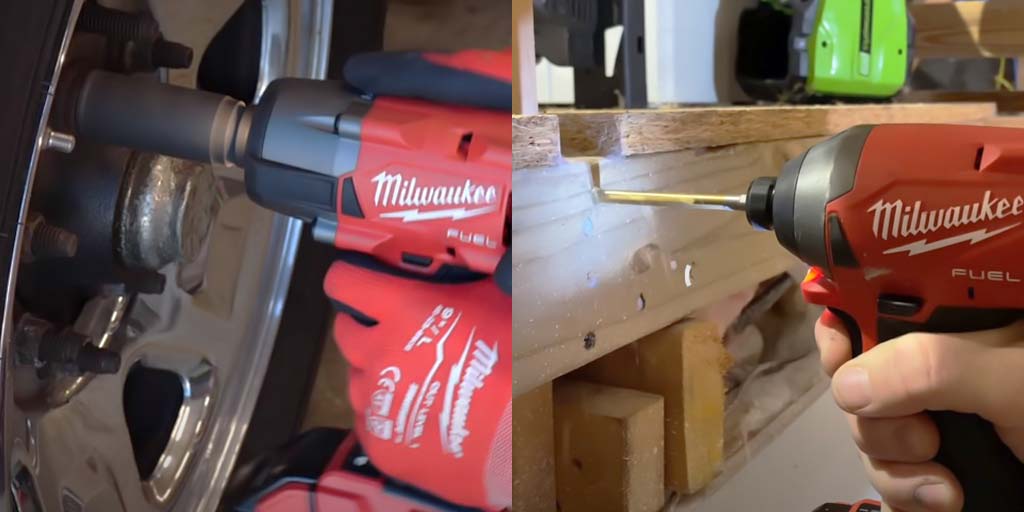 If you're into DIY projects, the feeling of building something with your own hands is quite unlike any other. It brings you joy and a sense of accomplishment. And rightfully so.
But not everyone can be handy, you know? Some DIYers, especially beginners, face a problem. They might lack the knowledge of specific tools and what they do.
That might lead to them buying the wrong tool for the job. This article will be a complete breakdown of Impact driver vs Impact wrench.
Think of a DIY project way this way; you build something completely on your own. When you have guests over, not only can that be a fantastic conversation piece, but you can also flex your handiwork a bit too — a humble brag, if you will.
What are Impact Driver and Impact Wrench?
Naturally, before going into the comparison and deep-diving into what the differences between these two are, it pays to know what these tools do in the first place. This will give you a better understanding of the essence of these tools and what they're used for.
The interesting thing is these two tools perform somewhat the opposite job. Here is what we mean.
Impact Drivers
Basically, impact drivers are used for driving long screws. The motor makes it very easy and significantly reduces hand strain. If you're doing some household projects or just minor DIY stuff, you'll probably need an impact driver.
They look very much like a drill. There is one difference though. They are way more powerful! They are compact and fun to use. Well, at least for someone who enjoys DIYing.
These tools can be used to drive screws through tough surfaces too. Think of hard wooden surfaces, bricks, or metal even. They also produce high torque but not as much as an impact wrench.
They produce a lot of RPMs though. The high speed is what makes this tool perfect for drilling into hard surfaces. However, high speed isn't always the answer.
If you're drilling into softer surfaces, a lower speed is preferred. The kickback is minimal with these and makes projects easier to complete. Impact drivers come in three different types.
Corded: Corded ones need to be plugged into a power source. You don't need to worry about battery life with these. However, you do give the flexibility of not being tethered to a power outlet.
Cordless: If battery operation and needing to recharge/replacing the batteries isn't a problem for you, you can opt for cordless impact drivers as well. There are some pretty long-lasting cordless options in the market you can find.
Hydraulic: Hydraulic impact drivers produce less sound. So, these are great when using near people. Don't let the quietness fool you though. They are still suitable for getting some serious work done.
Impact Wrench
Impact wrenches are the more powerful of the two. They are used to remove nuts and bolts. Also, you can use them to tighten nuts and bolts too, funny how that works isn't it?
The shape of these tools is stubby and smaller compared to impact drivers. We will touch on what impact drivers are a bit later.
Impact wrenches are very powerful as well. In fact, they are probably more powerful than you would typically need for a DIY project in your house. These tools are generally used on heavy-duty works.
Cars are a perfect example where you'll see impact wrenches being used. The sheer amount of power they have helps them make quick work of tightening and loosening bolts.
They also have fewer RPMs (rotations per minute) and higher torque compared to impact wrenches.
These tools are used in professional settings. Construction sites are also a perfect example where you'll see them. Impact wrenches can be powered in one of four ways.
Hydraulic Powered: These types of impact wrenches are less common. They use a fluid mechanism. It works by relying on a low-pressure hydraulic power source. Hydraulic powered ones are quieter and lighter too.
So, you might want to second guess using it in untimely hours.
Corded: This one is pretty obvious. These types of impact wrenches use a cord connected to a power outlet. The main source of power for these are, of course, good old electricity.
Cordless Impact Wrenches: If you don't want to be bound by a cord, a cordless one is the one to go with. You'll need something to power the tool. That is taken care of by batteries. While the convenience of not having a cord is great, you do need to change the batteries from time to time and between uses.
Pneumatic: Pneumatic or air-powered wrenches are more for car mechanics to be used in racing. You won't really be using these in your home or for a domestic project. But that still doesn't make these any less cool.
These are powered by air, compressed air to be exact. They can remove large lug nuts very quickly.
Impact Driver Vs Impact Wrench – What Are the Differences?
Now that you know what both of these tools are and what they're primarily used for, we can touch on the key differences between these two.
Starting with the most obvious one first. You'll use these two in two different scenarios. Impact drivers are used for screwing in things. They are great for driving tough screws and general fastening. These are mostly used around the house.
Impact wrenches, on the other hand, are used to loosen or tighten nuts and bolts. You can also work heavy lug nuts. A general household will not see much use for impact wrenches. These are typically more common for working on cars and construction sites.
Tool Holder
The tool holder for these two is also different. They are made to make the tool easier and safer to use. Impact drivers use a ¼ inch standard hexagonal socket for the drill bits.
Since this is akin to a drill, you have the option to buy drill bits in varying sizes for different kinds of jobs. Impact wrenches have a ½ inch square shaft.
Skill Level Required
Before we start with skill level, let's get one thing straight. Both are powerful tools. These are not toys that you play around with and therefore need to be used properly. You need to have the proper experience in using both.
But impact wrenches do require a bit more experience and skill compared to an impact drill. Impact wrenches are not for amateurs.
How They Work?
How these two works are fundamentally different too. An impact wrench works with rotational direction. In contrast, an impact drill works in an axial and rotational direction.
Power Sources
You're more likely to find impact drivers in three power source setups. They are either corded or cordless or hydraulic. Impact wrenches, as we have already mentioned, can be found with 4 different power sources.
Just to reiterate, you can find them in either cordless, corded, air-powered or hydraulic variations — pneumatic or air-powered ones used for more heavy-duty and professional work.
Which Tool is Right for You?
If you're planning to just do household work and small DIY projects, an impact wrench really isn't necessary. Not to be mistaken, though — impact drivers can still get some serious work done.
Professionals and amateurs both will see good use for their impact drivers — things like building a shed, for example. A normal 4-way lug wrench should be plenty for a household setting.
Impact wrenches are more of a specialty tool. Unless you have a particular job that requires an impact wrench, or you'll be working on cars or heavy constructions, they probably won't see much use.
Buying Guide: What to Look for Buying an Impact Driver or Impact Wrench
Do you know what's a common mistake many new DIYers make? Not knowing what to look for when buying the tool. While it's easy to choose the best-looking one that fits your budget from the shelf and calling it a day, it might not be the best idea.
You know the differences now. But since you're here, we thought why not include a helpful buyer's guide. This way you pick the one that works for you no matter which tool you buy.
Here are the things to look out for when buying:
Power and More Power
The first thing to check for is the tool's power. What kind of job will you be using the tool for? The harder the job, the more power or torque you'll need. Look into how much power the one you want to get has.
Remember, it's always better to have a little extra power than to come off short. Although, try not to go overkill with it.
Safety Features
As the saying goes, 'safety first'. We are firm believers in that statement here as well. You can cheap out on a tool with little safety features only to regret it after a horrific accident.
To avoid that, look for important safety features like automatic shut-off features or dust prevention. Some cordless ones will also stop charging when the battery is full. This will not only make your battery last longer but is safer for you as well.
Not all models are made equally. It pays to take the time to look into the safety features the tool offers.
Weight
Both of these tools are handhelds. If you know you're going to be using them often, it's a good idea to go for one that's lightweight. That way, your hands won't get tired as quickly.
There is a caveat though, there might be a slight trade-off between power and weight. You'll need to balance your priorities here.
Battery Specifications
This will apply only if you're going for a cordless model. Make sure to check how big the battery is. Look into the operation time when the battery is full and how long does it take to charge.
Not all models will include batteries in the box. This isn't a major pain point, but hey, it doesn't hurt not having to buy the first pair of batteries. Getting one that comes with batteries in the box will get you up and running faster. And no one can complain about that.
Other Features
This is the age of modern technology. Tools also got high-tech treatment. You'll find both impact wrenches and drivers with lots of cool technology and additional features.
One feature we always recommend is an LED light. Buying one that has a built-in LED light makes it easier to see exactly where you're working. Some are smart tools with support for Bluetooth and a companion smartphone app.
These are all great quality of life features that just make using these all the more enjoyable.
Brand and Price
Lastly, we have brands and pricing. There are a couple of brands that have been producing fantastic power tools for years. You can pick any of these brands and models that match your needs.
Brands like Makita, Milwaukee, Bosch, and DeWalt are legendary names in the industry.
When it comes to pricing, it'll depend on the specific model you get. The more features and power, the pricier it is. It's as simple as that. Again, try not to go overboard. However, a good tool is an investment.
Frequently Asked Questions
Before wrapping up, let's chew through some commonly asked questions in rapid-fire style.
Are these tools safe to use?
These are power tools. They're safe to use, but you need to maintain proper protocol. If you're not experienced enough, it might be a bad idea. Impact wrenches require more skill.
Can I use impact drivers instead of drills?
Impact drivers and drills perform almost the same task. However, a driver will do it more efficiently and cause less strain. They are also great for driving long screws. You can use both for boring holes.
Do I need an impact wrench?
Impact wrenches are specialty tools. Unless you have a specific job that requires one or you're working on cars, you probably don't need one.
Will these tools last a long time?
If you purchase a good quality one from a reputed brand and use it properly, you can use any of these tools for years.
Should I go for a corded on or a cordless one?
This depends. If you need to be untethered, a cordless one is great. But you'll need to replace the battery. Corded ones do not need batteries and can take power directly from an electrical outlet. Also, see which one has more power.
Wrapping Up
There you have it. Hope this answers your question about impact driver vs impact wrench. Pick the one that suits your needs from a reputed brand, and you should be good to go.