What Impact Wrench Size is Best for Automotive? [2022 Guide]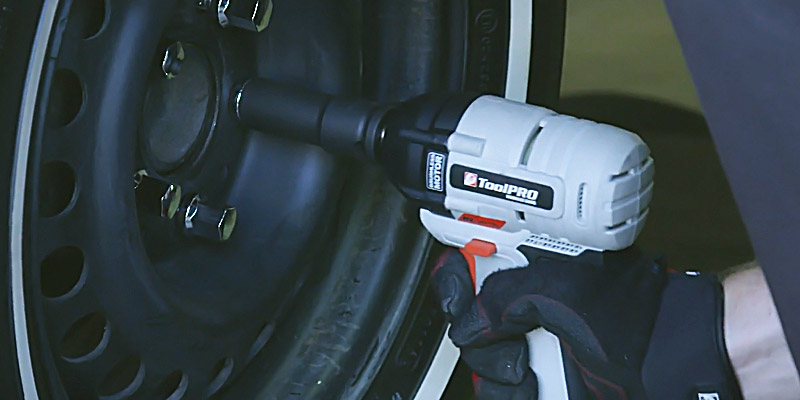 When it comes down to automotive work, it becomes necessary to get the perfect-sized impact wrench, which offers the required levels of torque for fixing the nuts and bolts of your car without dealing with over-tightening issues.
Hey, you're already starting to scratch your head, right? I knew that because most people don't actually know what size impact wrench for automotive work is ideal.
Stay cool! I'm here to reduce your stress! I'll make sure you choose the right size impact wrench, thus making automotive works seem like a walk in the park to you.
So, without more chit-chat, wear your mechanic glasses, and let's get started!
Definition of an Impact Wrench
An impact wrench, also known as an impact gun, is a superior power tool engineered to loosen or tighten lug nuts in the best way possible. "Extreme rotational torque" is the thing that makes it stand out from the crowd. So, it can be an efficient device if your job is related to automotive works.
Not only for cars, but this super-duper power tool can also be used for trucks, construction projects, and fixing applications at the same time.
Different Types of Impact Wrenches – Ideal for Automotive Work
These days, you'll find so many options when we talk about the types of impact wrenches. But, all of these aren't that good for automotive work. This is why I've added only 3 different types of wrenches that you can use to increase your overall performance.
1. Corded-Electric Impact Wrench – The One with Cord
The name speaks for itself, this one right here equips a specific cord, which requires to be plugged-in to operate. It comes with a particular motor that stands at the bottom of this device.
After turning the device on, the superior motor starts driving the hammer unit straight away to provide rotational torque.
With its basic mechanism, anyone will be able to loosen and hold the nuts with ease.
Advantages
Pretty faster
Comparatively lightweight
Powerful and long-lasting
Disadvantages
Pricey a bit
Overheating issues
2. Cordless Impact Wrench – Always Portable!
It's my favorite pick! I feel very comfortable using cordless impact wrenches. Since it takes energy from a specific battery and requires no electrical cord, it'll be a great choice for those who travel more often and requires to visit different locations.
Because of the lightweight structure and compact shape it comes with, holding and storing the piece of machine will be just a cinch. Despite being portable, it suits automotive works and other difficult projects.
Advantages
Super handy
Ease of use
Fits tight areas
Great for automotive works
Disadvantages
Requires frequent charging to operate
3. Pneumatic Impact Wrench – Affordable and Lightweight
This one right here is driven by compressed air, which is why I like to call it an "air-powered" impact wrench. It's comparatively lightweight, and the price tag it packs is much reasonable.
Since a pneumatic impact wrench takes power from air, you won't have to deal with overheating issues at all, even after working for so long. But the level of torque is pretty low, which is why it's not the best option for heavy-duty automotive works.
Advantages
Lightweight
Reasonable price range
Free from overheating issues
Disadvantages
Requires an air compressor additionally
Low torque level
Not for bigger projects
A Standard Size Impact Wrench – ½ inches for Automotive Work
When it comes down to the automotive industry, the impact wrench with a size of ½ inches is considered average or standard. You'll find this one in almost every automotive shop.
And guess what? This particular impact wrench comes in 300ft/pounds of torque level. I think it's suitable for multiple tasks, including tire jobs and suspensions.
I also think the size is perfect for small to medium disassemblies and assemblies. Do you know why I'm fond of this one? Because it's quite safe and convenient to use, making it one of the best options for newbies.
A Bigger Size Impact Wrench for Heavy-Duty Jobs – ¾ inches
Frankly speaking, an impact wrench with standard size is unable to provide the amount of torque required for large disassemblies and assemblies.
This is the reason why you need the impact wrench that comes in a size of ¾ inches. With its assistance, you can smoothly deliver higher torque; plus, you'll be capable of working on truck workshops and construction sites.
Speaking of the amount of torque, you'll get around 1200ft/pounds from this one, so anyone can complete the job more quickly and effortlessly.
Listen, if you still want to get yourself a small impact wrench to accomplish bigger projects, waiting for hours and hours will be a common issue, bear in mind!
Importance of Knowing the Torque Levels for Automotive
As you know, torque is a crucial feature that plays a key role in determining the overall performance of impact wrenches. You can work with ease if the level of torque is pretty much higher. Plus, it won't let you end up with over-tightening issues while fixing nuts and bolts.
I think it's a wise decision to take suggestions from professionals in terms of knowing the minimum and maximum torque levels of your vehicle, whether it's a car or a truck. By doing this, you can always use the right impact wrench to get your job successfully done.
So, Bigger vs. Compact – Which One Stands Out?
Choosing a specific one between the compact and bulky (bigger) impact wrenches really depends on your projects and requirements. If you want to have the one with a small shape and lightweight design, chances are you won't get the higher torque levels.
But, a compact impact wrench comes in handy if you're hungry for a user-friendly and portable power tool to complete each and every smaller task related to automotive.
On the flip side, if you think you just need to complete heavy-duty automotive tasks, then yes, bigger is better in this case!
Handle
Usually, a standard impact wrench (1/2-inch) includes a pistol grip, making it way too convenient to use. Besides, a large-sized impact wrench (3/4-inch) equips a unique "T" style handle. You might also find a couple of models with "D-style" gripping are as well.
I feel more comfortable if the gripping area seems a bit bigger because it helps me to hold the handle more securely and conveniently. But you should choose the one depending on your convenience.
RPM in Impact Wrenches
In general, most of the impact wrenches come in 2000 to 3000 RPM (rotations per minute). If you're going to deal with rusted bolts and heavier machines, the range of RPM should be higher; why? It lets you take off the nuts and bolts more quickly yet easily.
Don't be disappointed! You still can perform automotive works with your average impact wrench; you just have to make sure you're not using it in heavy projects.
Conclusion
So, what size impact wrench for automotive work is ideal for you? I think, from now on, you can pick your desired one without taking anyone's suggestions because here I've shown you everything about the size and some other features of this power tool.
But if you ask me to choose a single one between them, I'll go with the ¾-inch impact wrench. Undoubtedly, it's a great choice for heavy-duty automotive works!