5 Ways to Use Black and Decker Cordless Drill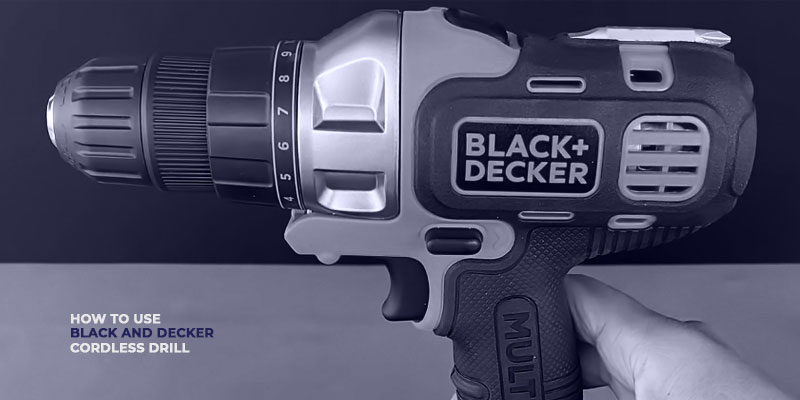 In the world of cordless drills, Black and Decker is a huge name, and I am guessing that you have one of those as well. Even though they're heavy-duty and full-functioning, the drills may seem a bit complicated to use if you're using them for the first time.
So, the big question is how to use Black and Decker cordless drill? Fret not; I will tell you exactly how to and what else do you need to know about a cordless drill life. So, let's get started.
Before you know how to operate the Black and Decker cordless drill, I guess it's fair that you know a little about the brand itself and how did you make a great choice by getting one. Or why it should be your number one priority.
About Black and Decker
Black and Decker is a hardware company that has been operating in the market since 1910. It is a wholly-owned subsidiary company under Stanley Works, and now it is the home improvement giant that we all love and adore.
How to Use Black and Decker Cordless Drill?
Using this cordless drill is as easy a pie. It doesn't require much effort or knowledge for you to be able to put the drill to use. This one comes with 2 battery packs which are lithium-ion batteries. You just simply have to charge the batteries and attach one to the base of the drill, and boom! It's ready to be put to the test.
The best thing about these lithium-ion batteries is that they will hold the charge even if you don't use the drill for quite a while. This is the most efficient type of battery that charges quickly and delivers the power on demand. And with the package, you get two of such, so you have to do a lot of drilling before you run out of juice.
1. Remove or Attach Screws
With this cordless drill, you can obviously put a nail on the wall without an effort, but what about pulling one out? You can do that too. It is common with Black and Decker cordless drill to have a clockwise and an anti-clockwise setting to do both jobs. The switch usually lies just above the trigger.
2. Control Your Speed
It's not just a one-speed setting that you always need. Depending on the surface type and the nut type, you have to adjust the speed at which you screw in or out, and Black+Decker gives you that freedom. There are different speed settings that you can adjust the drill on and use in your best interest.
High torque applications, like a big drilling hole, will require you to be a bit more precise and slow. So, in those cases, slow your drilling speed and go fast with the small ones.
3. Comes with an LED Light
Another unique feature that rarely anyone cares about is visibility. What if you are working in a corner with no light? What if it's a hard-to-see position? Do you do the old tango and carry a torch in your mouth? Nope, those days are gone because this one has a built-in light, which is enough for you to put a nail onto the wall.
4. The Clutch
It has a torque adjustment collar or an attachment that is popularly known as a clutch of the drill. You have to use a low number of that bit or adjustment to apply in low torque situations. I mean, where you need less torque application, use a lower number bit and vice versa.
This particular feature will save you from stripping your screws away. If I had to give you an example then, let's suppose you are working on drywall.
In that case, use a lower torque or turning speed for the screw to go in with ease. And suppose you are working with a piece of wood; in this case, a higher turning speed, AKA torque, is required to do a good job.
5. The Chuck
It's the clamp, a three-point clamp that fastens the bits onto its place. Turn it in a clock or anti-clock motion to tighten or loosen it. There are different drivers in a package to do different tasks.
Wrapping Up!
I hope your question of how to use Black and Decker cordless drill has been answered throughout this article. Remember, it is always better to go cordless in these scenarios because cordless gives you mobility which is crucial in home improvement jobs.
Now, I don't know if you have bought any cordless drills or not. Even if you did and you need something again that's on the affordable side; you can easily get your hands on the best cordless drill under 50 near you.