Craftsman C3 Impact Wrench Review 2022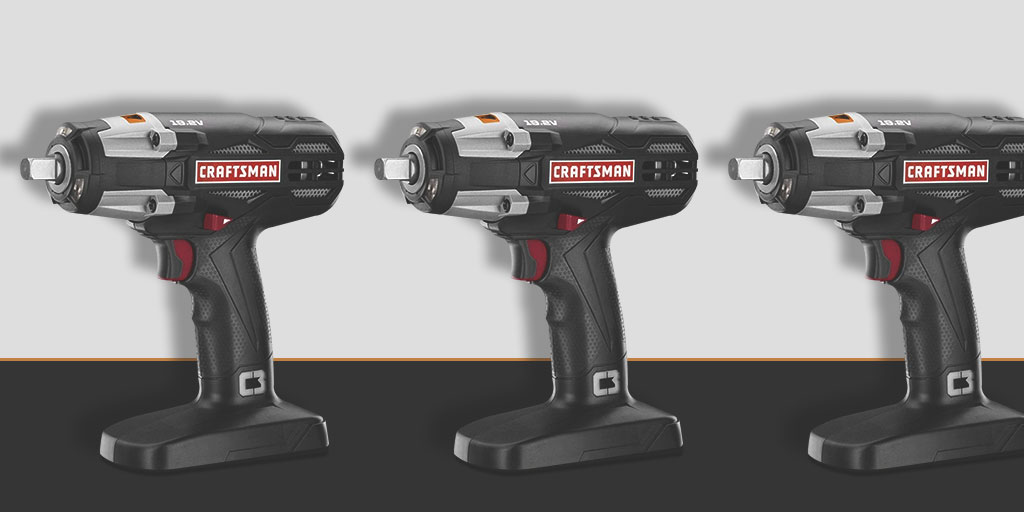 Are you tired of resorting to manual labor every time you get a flat tire? Is a regular wrench too tiresome and time-consuming? Then we have the perfect product that rids you of this stressful dilemma. We know how hard it is to find a reliable impact wrench with all the deceiving adverts online.
Hence, we bring you this impact wrench to take care of all your mechanical troubles. It has a wide range of convenient features that are beneficial for beginners and experts alike. Browse through our entire Craftsman C3 impact wrench review as it's exactly the power tool you need.
Craftsman C3 Impact Wrench Review
As you may already know, an impact wrench is a more efficient alternative to regular wrenches, especially when it comes to loosening or tightening nuts and bolts. Besides that, the Craftsman C3 impact wrench can be useful for various other applications as well.
This heavy-duty impact wrench is fully cordless and is powered by a 19.2 V battery. It provides the tool with enough power to take care of any loose bolt or nut in your house. Yes, you heard it right! This power tool is not limited to replacing car tires. You can use it for any purpose you would use a regular wrench for.
Whether you're a mechanic, construction worker, or just a DIY enthusiast, the C3 impact wrench will prove to be a useful ally. It can deliver up to a maximum torque of 300-foot pounds with ease. The 1/2-inch drive impact wrench can generate up to 3000 impacts per minute, which is undoubtedly impressive.
It's often recommended by experts for its impeccable performance even in harsh conditions. The C3 impact wrench is equipped with a robust motor whose speed can be adjusted at will.
Incredible Torque
The best thing about the C3 impact wrench is its incredible torque range of 300-foot pounds. That's more than enough torque to take care of different types of projects with the same level of efficiency. The extended torque range also means that you can adjust the torque according to your needs.
The speed and amount of impact generated can be easily controlled by the user. All you need to do is apply pressure on the trigger.
Effortless Operation
Different tasks require different levels of torque for the utmost efficiency. The Craftsman 19.2V impact wrench delivers the exact amount of torque you need for any given project. This power tool can easily generate up to 3000 impacts per minute, which lets you get the job done within a very short time.
No longer will you have to exert manual force when replacing a car tire. Due to this exceptional impact wrench, the entire operation becomes fluid and effortless.
Lithium-Ion Battery
Another noteworthy feature of the C3 impact wrench is its 4 Ah XCP lithium-ion battery. The battery is easily rechargeable and will let you work for several hours before it needs to juice up. This is what makes this impact wrench far more convenient than others.
Cordless
Most impact wrenches on the market need to be connected to a nearby outlet before turning it on. Even though corded models are lighter, they can limit your maneuverability while completing a task. It can also slow you down as it can be challenging to access the tough to reach areas.
With the C3 impact wrench, you'll never have to worry about tripping over the power cord. It's not only irritating but can also act as a workplace hazard.
Impeccable Design
Besides the powerful motor and the long battery life, the manufacturers at Craftsman have paid special attention to the impact wrench's design. Only the most premium quality materials have been used in the manufacture of this product. This solid steel housing ensures maximum durability.
Even after regular heavy-duty usage, the C3 impact wrench doesn't lose its efficiency. All the internal components are well protected, which allows it to last for years on end. Most cordless impact wrench models weigh a lot due to the size of the rechargeable battery.
Lightweight and Efficient
Fortunately, the Craftsman C3 impact wrench weighs only 5.75 lbs and can be carried around without breaking a sweat. It's also pretty portable and useful in all types of conditions. They have also included little LED lights on this tool, so you observe the readings accurately in low light conditions.
Apart from that, it's equipped with a half-inch anvil at the bottom that makes it more convenient to use this tool. Speaking of convenience, the impact wrench flaunts an ergonomic handle as well. This will help maintain a firm grip even when the wrench is generating 3000 impacts per minute.
Pros
Incredible torque of 300-foot pounds
½ inch anvil for various applications
Comfortable ergonomic grip
Triple LED lights
4 Ah XCP Lithium-ion battery
3000 impacts per minute
Cons
Too heavy to be held for an extended period of time
Very loud
Frequently Asked Questions
What can you use an impact wrench for?
Impact wrenches are generally used for tightening or loosening different types of nuts and bolts. It can also be used for loosening nuts that are frozen or fixed in place. They are also equally effective at removing rusted lug nuts.

Mechanics usually rely on impact wrenches to remove nuts of a car tire. They are much more powerful than a regular power driver, as they have a very high rotational torque.
How powerful of an impact wrench do I need?
There are different types of impact wrenches on the market. Some have a high torque range but deliver low RPM. Others might have low torque but can deliver higher RPMs consistently. The number of impacts generated per minute is more important than the torque.

The more speed an impact wrench generates, the faster you can loosen or tighten a nut. Craftsman C3 impact wrench comes with a torque of 300-foot pounds, which can generate up to 3000 impacts per minute. That's more than enough to get the job done in a matter of seconds.
Can an impact wrench be used as an impact driver?
The C3 impact wrench is way more powerful than regular impact drivers. However, it can also be used as a substitute to impact drivers for certain purposes.
Will a cordless impact wrench remove lug nuts?
Yes, whether it's corded or battery-powered, any impact wrench can remove lug nuts.
Can you use a regular socket on an impact wrench?
No, it's not recommended to use a regular socket on any impact wrench.
Final Verdict
As we draw near to the end of the Craftsman C3 impact wrench review, I think it's safe to say that this model surpasses all its competitors by a mile. Each of its key features has been included to make your projects an absolute breeze. We hope you get the best out of your investment and continue working safely.