6 Best Multimeter Under $50 of 2022 (Buying Guide)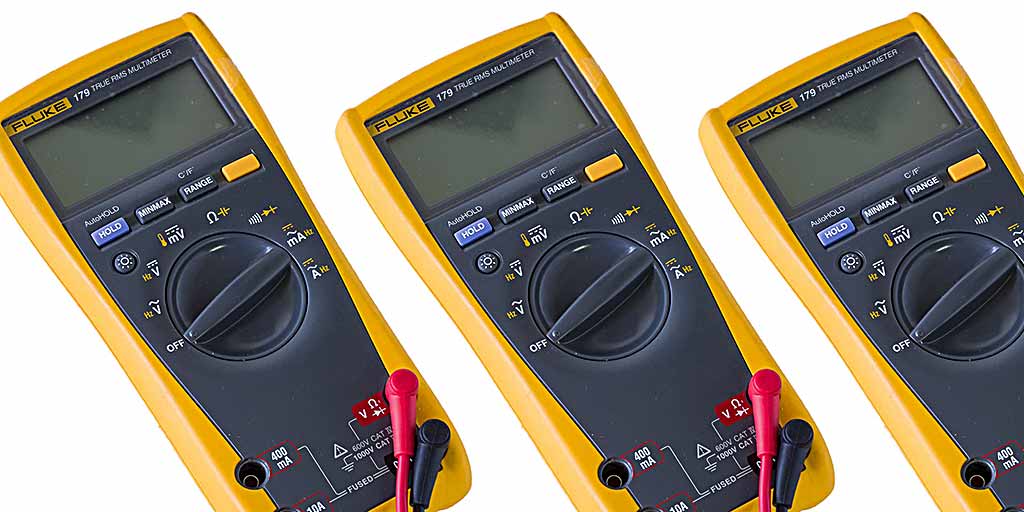 So, you've bought junk again? Yes, we're talking about that thing you've brought with the name 'digital multimeter' written on it. Want to know how we've figured that out? Well, if your current one is so good, then you wouldn't have been asking Google for the best multimeter under 50 dollars.
Don't worry; we aren't going to let you take a U-turn without getting what you're looking for. But for that, we need you to have a glance at the list of digital multimeters we've made for you. So, ready to get started?
Top 6 Best Multimeter Under $50 Reviews
It's time to put a full stop on your waiting for the right digital multimeter. Just check out our list of the finest multimeter under $50 and bring your one in. The list starts with:
1. AstroAI WH5000A: Best for Security
What do you consider as the determinant of perfection in a multimeter? If you count the wider range and ease of usage in that list, then we think you need to have a peek at the WH5000A from AstroAI.
As we've started with the range, let's have a glance at it first. Like any other high-end multimeter, this one can easily measure voltage, current, resistance, capacitance, frequency, continuity. And if you're asking for more, then count the Diodes Transistors in as well along with the temperature test.
Thanks to its rubber over-molded enclosure that has left no scope to question its durability. So, if it ever goes through a light bump, there's no chance of you seeing damage on it.
F10A/600V and F400mA/600V – are you familiar with these names? Well, these built-in ceramic fuse tubes are what you're going to get with this one, which is explosion-proof, by the way. So, with the double protection, there's no way it will fall short on security or reliability.
Team AstroAI didn't forget to give it a backlit LCD screen to ensure that you're not having a problem with seeing it in the lower light. On top of that, the kickstand and hanging magnet eased up hands-free monitoring too.
Like some of the finest multimeter, WH5000A has come up with its own uniqueness and that is the Multi-Function Socket. Now if you want to run a test on your or Capacitors or Transistors, you can easily give them a shot here.
Pros
Comes with a wider operation range
Has durable construction
Highly secure and reliable
Backlit LCD display ensures better visibility
Easy to carry anywhere
Cons
A bit longer battery life would've been better
2. Crenova MS8233D – Best for Overload Protection
When what you're playing with is electricity, the first two things you need to ensure are accuracy and safety. As multimeter is one of the tools of the game, you better get one that can keep those bars high just the way MS8233D from Crenova does.
If you're don't want to mess with the AC/DC voltage and want an accurate number there, then you can rely on MS8233D with closed eyes. But that's not the only function it can pull off. Put AC/DC current, frequency, continuity, diode, resistance on your chart too.
Now comes the safety part. With the built-in double fuses, you don't even need to think twice about safety. And if you're worried about the overload hazard that you face often, this piece of tech can save you there as well.
In case it's getting dark, leave it on the 3.5-digit LCD screen to light up your readings. Plus, to back you up with all the power you need, it comes with a 9V battery.
But what we consider as the most impressive feature of this tech is the auto-ranging operation. Whenever you'll be dealing with different components at once, it'll let you select the right measurement ranges accurately. Like a cherry on the top, its data hold function locks the reading with a simple press on the hold button.
Pros
Has a wider testing range
Readings are perfectly accurate
Built-in double fuses ensure safety
Easy to see in low light
Comes with data hold function
Cons
Reading speed has scope for improvement
3. Klein Tools MM400 – Best for Durability
It's time to reveal another amazing auto-ranging multimeter with the ability to deliver an accurate and flawless performance. There's no need to guess as you've already read the name of MM400 from Klein Tools. So, let's jump to the awesome features this DMM is holding within.
Nothing can take a multimeter on the level of perfection if it doesn't have a wider function range. Thankfully, team Klein Tools made MM400 capable of measuring AC/DC current, AC/DC voltage, and resistance. Not only but these, but you can use it for temperature, capacitance, duty-cycle, frequency, diodes, and continuity.
With the CAT-III 600V safety rating, you can rely on this multimeter with closed eyes. But what you're going to love about this one is its low battery indicator. This means rather than dying out of the blue like some of the low-end techs; you'll be able to know when it'll need some juice again.
But a machine like this that you might need almost every single day requires to have a construction strong enough to ensure durability. So, the makers have made it in a way that it not only can survive drops but also regular wear and tear too.
On top of that, its compact and lightweight design has made the usage part more convenient than ever. Unlike bulky devices, you won't have to face issues while running different tests.
Pros
Multifunctional and auto-ranging
Safety rating is CAT-III 600V
Durable enough to sustain drop, wear and tear
Compact and lightweight
Low battery indicator
Cons
4. KAIWEETS HT118A – Best for Multi-Functionality
What if we tell you the next on our list is a high-end auto-ranging multimeter that features 6000 counts? Sounds unbelievable? Well, KAIWEETS has been able to pull off something like that and named it the HT118A.
When it came to widening the application, team KAIWEETS left no chance unutilized to hit the 'maximize' button there. We bet you're going to agree to that too after seeing it on applications like AC/DC voltage, AC/DC current, capacitance, resistance, continuity, frequency, diode, liquid temperature, etc.
So, where are you planning to give it a shot – the automotive, household, or industrial electrical issues? You're free to use it in any of them. And if you're asking for a little light in the darkness, its work light with sufficient brightness will bring it up.
The makers of this multimeter tried their best to give it a different edge. That's why they've filled it up with amazing functions like low battery prompt, auto power-off, data retention, max/min data, etc. With the names, we bet you've got a clear idea that this one is going to be nothing but a useful tech in your collection.
But what we think is more of a unique move was adding the feature of changing light in it. Every time it detects a live wire, the display light turns red to let you know that. And to maximize safety, it has double ceramic fuses with a thermistor protection circuit.
Pros
Comes with wider applications
Applicable in automotive, household, and industrial issues
Features 6000 counts
Auto power off feature
Double ceramic fuse maximized the safety
Cons
Viewing angle could've been better
5. Amprobe AM-510: Best for Non-contact Voltage Detection
Who would want to put their hands deeper in the pocket when they can get the perfect multimeter with a price half of a high-end one? We believe you won't do that too. If so, then you better get ready to have a check on something like that, and it's none other than the AM-510 from Amprobe.
With the capacity to measure AC/DC voltage up to 600V, it has successfully established itself equivalent to top DMMs. And the other tests? AC/DC current, resistance, capacitance, duty cycle, battery test, frequency – you just name it, and it'll get that done.
Relying on it for safety is something that you'll never regret. Thanks to its CAT-III Safety rating for that. On top of that, it can not only fulfill your wish to have an auto-ranging multimeter but can work as a manual one too. It's kind of 'hitting two birds with one stone' deal.
But what we call the game-changer for team Amprobe was adding the Non-contact voltage detection feature in their list. Now you won't even have to touch the wire to get reading. And if you ever forget to use it for 30 minutes, then auto-power off mode will shut the device down.
By the way, if it gets darker, don't forget to turn on the flashlight right there. Plus, the backlit LCD screen will always be there to get you a clear reading in the darkest corner. And if you're thinking about the weight, we don't think you've got any chance to call it heavy with the 12.5oz weight.
Pros
Comes with CAT-III Safety rating
Auto-power off mode
Capable of manual and auto-ranging
Built-in flashlight
Backlit LCD screen improves visibility
Cons
Doesn't have the best flashlight
6. LOMVUM T28C: Best for Varsatile Design
Ready for the last one? But we bet you can't call it any lesser than the finest multimeters after seeing the amazing features of the next DMM on our list with 6000 counts. Want to know the name? Well, it's the T28C from LOMVUM.
This lightweight and portable piece of tech doesn't only show excellence with its design but the functions too. Its ability to measure AC / DC voltage, current, resistance, temperature, frequency, capacitance, diode, transistors, etc., has proved that.
To give it a better edge, the makers have made it capable of detecting voltage without any contact. Plus, with the hanging magnet, you can also tag it to a metal bar around to have a check on the reading without even touching it.
What to say about the LCD design? This feature has made it easy as pie to read all the information clearly. And are you looking for a place to store your test pen? Then just check out the grooves on T28C's back. But the good sides of the design just don't end there, as the flashlight is there, light the spot up in the dark.
It looks like team LOMVUM has given the lion-share of their focus on safety too. Probably that's why they've added the ceramic fuse tube in it, not one but two of them, and they didn't miss to add overload protection there. On top of that, to nail the safety part, they've covered it with the rubber-made protective jacket too.
Pros
Application range is significantly wide
Lcd screen ensures perfect clarity
Groove for storing test pen
Double ceramic fuse tube made it safer
Protective jacket saves from external hazard
Cons
Could've had a better viewing angle
Things to Consider Before Buying a Multimeter under $50
Well, isn't it what going to get you the finest multimeter after all? We know you've just agreed to us. A multimeter is not exactly the kind of product that you can switch from within a short period of time. You buy it once, and if you do it right, once is enough.
So, to reach that once, at first you need to know what things that actually make a multimeter worth grabbing.
Auto Range or Manual Range
What often leaves a user confused while getting a multimeter is whether he/she should go with the auto-range one or manual range one. The answer is clear as a day. Get the auto-ranging one. It'll take down your hassle of fixing the values all by yourself.
All you need to do there is set the quantity you need to measure and leave the rest on the device. Another great thing about the auto-range one is it can be turned into a manual one as well just with a simple push on a button. So, when you're buying the auto-range one, you're actually bringing the manual one in too.
Accurate measurements can be attained by choosing a multimeter with high input impedance if you want to measure the more sensitive electronics.
Input Impedance
There's nothing matter more than accuracy in a multimeter, and one of the factors that influence it the most is the input impedance. Especially when you're dealing with sensitive electronics, it has to be of a decent level.
So, if you're really serious about getting the right multimeter, then make sure the input impedance is high on that one.
Handling Major Functions
Whenever you're planning to buy a multimeter, you're definitely doing it with certain expectations. One of them is it has to be able to perform the basic and major functions. So, when you're looking at a multimeter to purchase, check out how good it is at handling the major functions.
Basically, the function that we count as the prime one for a multimeter is its ability to measure voltage, current, and resistance. But users of these days look for other functions, including temperature, diode test, capacitance, frequency, continuity, etc. So, you better get one that can perform it all.
Safety
You're asking for a multimeter, not a grenade that might explode on your face. At the time of picking the device, make sure it comes with the safety that you might need in the first place. So, don't think of anything but a device that offers adequate safety ratings.
Display
No matter how good the tech is, with the illegible display, it's pointless to throw bucks on it. So, what you need to look for is the display coming with the right viewing angle and clear reading or not.
And one more thing! When you're using a multimeter, nobody said that there will be enough light all the time. So, the device needs to have a backlight so that you can operate without any issues there.
Price
It's often said that going for a lower price is better as it saves you some bucks. Well, that's true, but not always. The problem with 'too cheap' multimeters is, in the race of minimizing the cost, they often miss to put important features in the device.
However, if you take the budget at a level of 40 to 50 dollars, there's a high chance of you ending up with all the essential features you'll need on a daily basis. But if you still feel like you need something of a bit high-price so that you don't have to compromise the quality, then check out the best multimeter under $100.
Frequently Asked Questions
Can a multimeter help with burned-out lamps?
Yes, it can. It can help you with finding out if the lamp is not working due to electrical problems or has there been an actual burn out. This way you'll know if it can be fixed or you'll have to replace it with a new one.
Why auto-ranging is better than the manual one?
Well, auto-ranging is all about faster results. Unlike the manual one, it's capable of measuring volts, amps, and ohms more quickly.
Which one is comparatively accurate among multimeters – digital oranalog?
Definitely the digital one. With several drawbacks, it gets tough to find out the accurate value at times in the analog one.
What is the major disadvantage of digital multimeters?
Depending on the design – in and out, there can be some major disadvantages. But the most common one is, its operation time is dependent on the battery.
Will the cheap DMMs can keep up with industrial level operations?
Usually, most of the DMMs are made to handle both commercial and domestic applications. But if you're asking for something of a bit higher capacity like industrial grade, then you better go with a multimeter of that level rather than looking for the cheap one.
Final Words
We often think the expensive techs always bring up the finest of the performance. But that's not something that we can always consider as true. We believe after seeing the reviews for the best multimeter under 50 dollars, you're going to agree with us on that too.
In this list of ours, we've tried to give you a clear hint on what kind of multimeter you can get within a small budget. You've also seen how capable they are even with a cheap price tag. So, which one it's going to be this time you'll put in your purchase list?