6 Best Multimeter Under 100 Dollar of 2022 (Buying Guide)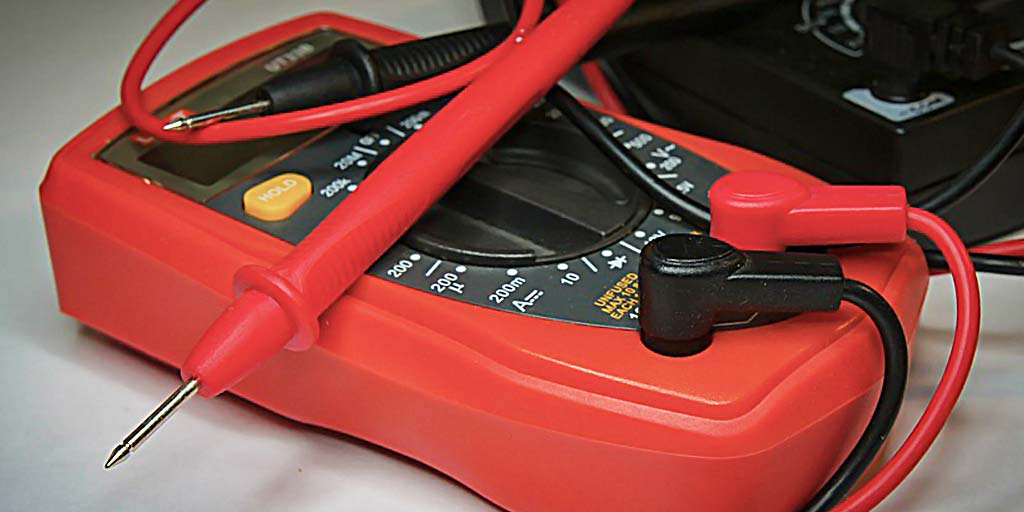 So, you too love fixing things up, especially the electric one? Well, then you don't need to explain why you've been roaming for the right multimeter here and there. But the problem is whenever you'll Google for it, the first thing that'll hit you on the face is tons of options. Enough to confuse you, right?
What to do now then? Well, what if we get you the best multimeter under 100 dollars? No, we're not bluffing, and you'll get the proof when you'll have a glance at the list of finest DMMs we've made for you. Want to check it out? Just scroll a bit down.
Top 6 Best Multimeter Under $100
We don't want to waste your time either! So, let's jump into the list of our top 6 multimeters that you can have within $100 only. Here comes the first one –
1. Klein Tools MM700: Best for Eliminating Stray Voltage
The first one on our list is from a brand that you probably have heard of more than any other name. They've so far brought some amazing techs so far and lately, they've added another one on their list. Yes, we're talking about MM700 from Klein Tools.
No matter how much you're planning to spend on a multimeter, you're thinking of wasting the money if its accuracy level is nothing standard. But team Klein Tools didn't forget to ensure that by adding automatic ranging TRMS in the MM700, the accuracy bar can be at the peak.
The next thing the makers have focused the most on is the application range. Well, like any other fine multimeters, this one too can easily measure all AC/DC current, AC/DC voltage, and resistance up to 1000V, 10A, and 40MΩ. By the way, count temperature, frequency, duty-cycle, capacitance, test diodes, and continuity in too.
Thanks to its safety rating of CAT IV 600V, you've got almost zero chance of having any trouble with it on the safety. And external safety? Well, drop it from 6.6-foot, and it'll still remain as good as new. Plus, you won't even have to worry about the daily tear and wear either.
What a lot of the DMM makers forget is doing something effective about identifying and eliminating stray voltages. But thankfully, team Klein Tools didn't walk on that road and added Low Impedance mode to handle that part.
And if you're expecting it to die in the middle of running a test, then the low battery indicator won't let that happen. But if you're asking for compatibility, then you can make it useful anywhere in residential, light-industrial, and business locations.
Pros
Able to measure AC/DC voltage up to 1000V
Capable of eliminating stray voltage
Comes with the low battery indicator
Can sustain 6.6-foot drop
Has the CAT-IV 600V safety rating
Cons
Continuity/ranging could've been faster
2. Fluke 107: Best for Compactness
Whenever it comes to a tech of higher capacity, we don't know why, but people start imagining a complicated technology. But it seems team Fluke has decided to walk in a different direction with their FLUKE-107. Want to know how?
Well, the first thing they've pulled off perfectly was putting all the essential functions in it that you're probably looking for in your next DMM. The list is quite long and starts with AC/DC voltage and current, resistance, capacitance, frequency, and ends with duty cycle, continuity, and diode test.
The makers know that manual ranging is slowly becoming the old school. So, they've made this one with the auto-ranging feature. After all, isn't it what you need for a quick test?
Do you know what can actually make the life of your device shorter? The high number on the wave plate's rotation. But thankfully, FLUKE-107 keeps it to the minimum for prolonging the life of the tech.
Another awesome aspect of this Fluke tech is its LCD backlight display with 6000 counts. Now, all you're going to get is crisp and clear reading every time you look at it. By the way, don't think just because this one is battery powered it's going to suck up all juice at once. The automatic power-save mode won't let that happen.
Now let's have a check on the build quality of this 200g DMM. Well, thanks to its rugged enclosure that has taken the external durability to a higher level. Now even if you drop it from a height of 1-meter, there won't be a single scratch on it. Plus, it's so compact that not only it'll fit into any pocket but the grip of your hand too.
Pros
Measures most of the ranges
Has auto-ranging feature
Comes with automatic power-save mode
Reduces frequency of rotation of wave plate
Can easily survive a 1-meter drop
Cons
3. Amprobe AM-530: Best for Voltage Fluctuation Detection
Who doesn't love to have professional touch on the tech they tend to use? Well, it depends on the device you're picking, and that includes a DMM too. If you're asking for suggestions there, then we'd say you better have a look at the AM-530 from Amprobe.
When it comes to electrically noisy environments, keeping the bar of accuracy high gets tougher. But thanks to the TRMS technology of AM-530, you won't have to worry even a bit about improving accuracy.
And the range? What do you need? AC/DC voltage, AC/DC current, frequency, capacitance, resistance, diode test, or temperature – this one got all of that covered for you. By the way, to ease up the identifying process of shorts and opens more quickly, the makers have included the audible continuity in the feature list too.
What usually happens in DMMs is some missing features make the analysis difficult, and one of them is Data hold. But team Amprobe didn't forget to add it to freeze the reading so that you can use it for further analysis. Besides, you can easily detect voltage fluctuations as it comes with MIN/MAX recording.
Unlike some of the low-end multimeters, the AM-530 has the auto power-off option. So, you've got zero chance of running out of battery life if you leave it idle in a corner. Plus, it comes with CAT-III 600 V safety rating. This means you can rely on this one even with a blindfold.
One more thing! You're not going to miss your manual-ranging multimeter with this one too. Because to get you the maximum flexibility, it comes with both of the options – auto and manual. And like some extra butter on the toast, it has features like a built-in flashlight and test leads storage.
Pros
Measures a ton of ranges
Data hold helps with further analysis
Easy to detect voltage fluctuation
Functional as auto-ranging and manual-ranging
Has built-in flashlight and test leads storage
Cons
Auto-ranging could've been faster
4. Mastech MS8229: Best for Versatility
No matter how much money you pour into a DMM, it'll still be useless if it can't deliver the versatility you seek. From the word versatility, the one name that popped in our head is MS8229 from Mastech.
The best part of this DMM is, you'll be paying for one device but will get five instead. Want to know how? It's capable of performing as a multimeter, Lux meter, thermometer, sound level meter, and humidity meter at once. Do you still think we're mistaking by calling it versatile?
As a multimeter, it can nail every test that you'll put it into. It doesn't matter if you want it for the AC/DC voltage (up to 600V), AC/DC current (up to 10A), capacitance, frequency, duty cycle, resistance – it's got all of them covered. And yes, it has both manual and auto-ranging options.
When you are looking at its display with 4000 counts will show you the reading clear as a day. And if run short on lights, this backlit display will light up the reading for you.
But that's not the end of the line! It's still got a lot more features in its arsenal, and one of them in data hold so that you can do your analysis more easily. And if you're missing the auto-power off mode, then it's got that in too.
Pros
Delivers a versatile performance
Can perform any of the regular tests
Both manual and auto-ranging is available
Backlit display helps to see in low light
AUTO-power off mode
Cons
Continuity is not the fastest
5. Unit-Trend UT61E: Best for AC Drive Output Measurement
If you think only expensive techs can deliver high-end performance, then you probably didn't have a chance to check out the amazing UT61E from Unit-Trend.
AC/DC voltage and current, continuity buzzer, resistance, diode, capacitance, frequency – the makers have filled this DMM with all these essential features. To add an extra edge to the excellence, the UT61E comes with a USB-standard serial port so that you can connect it to your PC too.
By the way, do you miss measuring variable AC drive outputs where the accuracy is better than ever? Well, then we've got good news for you. As this one is a True RMS DMM, you ain't going to have any problem to pull that off.
Along with the major features that we've just told you about, the tech has other essential functions in its pocket too. Peak measurement, Data hold, relative mode – this bad boy has all of it in its armory. And if you're looking for a multimeter with both manual and auto-ranging, then this is it.
But what was more of an impressive move from Unit-Trend was giving it a compact, lightweight yet solid construction. Even with the battery, its weight remains around 170g. And what to say about its 22000-count sharp display? And even if the light is low, this backlit display will bright up your readings.
Pros
Good at measuring different ranges
22000-count sharp display for clear reading
Comes with manual and auto-ranging
True root mean square meter
Has a solid build
Cons
Can't measure temperature
6. Tekpower Mastech MS8268: Best for Higher Voltage Measurement
It's time to reveal the last one on our list. But before we reveal the name, we'd like to mention that this DMM is one of those multimeters that can measure voltage up to 1000V. Yes, 1000V! Any guess on the name? Yup, it's the Mastech MS8268 from Tekpower.
With a ton of variety in input ranges, MS8268 can easily measure DC/AC voltage, current, frequency, capacitance, diode test, duty cycle, and resistance. And yes, you won't be deprived of privileges like manual and auto-ranging, which you usually expect from any high-end DMM.
But what was more than enough to awestruck us was its LED/Sound warning whenever someone gives it a try with the wrong banana jacks. By the way, it has the auto power-off system too, which you can turn off any time you want.
Now let's have a glance at its display. With the 4000-counts, the last thing you can expect on it is unclear readings. Plus, when you feel like the outer light is not helpful enough to see the readings, you can let its backlight back you up instantly.
The one thing that comes last but matters the most is safety, especially when we're talking about DMMs. Without having any lackings there, the makers have got this one CAT-II 1000V/CAT-III 600V safety rating. Besides, it's covered with a rubber holster to save the device from bashes and even from drops too.
Pros
Wider input range variety
Offers manual and auto-ranging
Comes with light and sound warning
4000-count display with backlight
CAT-II 1000V/CAT-III 600V safety rating
Cons
Things to Consider Before Buying Multimeter under $100
This is probably the only part you wish if it could've been easier, right? Well, can't say you're making the wrong wish. But there's something we definitely can do to see your wish fulfilled. Yes, you've got it right. It's the buying guide we're going to talk about.
You know already know that a multimeter is something you can find easily. But the part of the confusion that hits real hard is whether it's the right one or not. Want to know a secret? Just keeping your eyes open to a few aspects can take you it in no time and those aspects are:
Functions
No matter what kind of DMM you're looking at, what you'll have to think of in the first place is why you do you need it. Usually, when it comes to domestic usage, you won't need functions more than AC/DC voltage and current, capacitance, resistance, and continuity test.
But when you're planning to get it for more of the professional usage, you better check if it's offering Frequency, Capacitance, Duty cycle, Diode test, Temperature test, or not.
Measurement Ranges
Who's knows better than you about the ranges you need? So, have a check on the measurement ranges the devices can measure up to. Depending on the on type of task you're planning to handle, it'll vary. For example, if you need a multimeter for your household applications, a DMM with at least 400V range will be perfect.
Probes
What we often see is the DMMs of these days come with a set of probes to run the test. But no one ensured that it'll be the one you might actually need in the process. So, check out the probe coming within the package as the wrong one might lead you to spend some more bucks on a new one.
Resolution
Do you want to see the perfect measurement? Well, then stop looking here or there and focus on the resolution. When you don't want to miss even the smallest changes in the measured signal, this is what will help you out in pulling that off.
Safety and Durability
When you putting your hands in your pocket to buy a DMM, then you're asking for testing tech, not a bomb that might go off anytime. This is why you need to check out the safety rating before swiping your card.
But what you need to prioritize equally as safety is durability, and the only thing that can ensure that is a solid external design. If it's got a protective design, it can survive drops even from a few meters. Otherwise, the next time you'll drop it, it might never be able to see digits on it again.
Price
If you're expecting that we're going to tell you how much you should spend on a DMM, then forget it. What you've come to say when you need to understand that you're overpaying, whether it's about getting the best multimeter under 50 dollars or the one within 100.
Well, modern multimeters indeed come with a ton of features. But the thing is the more functions it'll offer, the higher the price will be. So, you better watch out for the unnecessary functions that you might've been paying for. Just make sure the one you're picking isn't charging you for things you don't want.
Frequently Asked Questions
How much the counts of resolution can vary in digital multimeters?
Resolution is one of the major considerations while buying a DMM, and it can vary to a huge extent. So, if you're thinking of getting your one, you can pick anything between 1999 counts to 22000 counts.
What is the ideal range for Voltage measurement in DMM?
It depends on the kind of application you have in mind. If you need it for household applications, then go for anything starts from 300V of the maximum range, though some say 400V will be more ideal. By the way, you can 1000V too if you want it based on your usage.
What is the essentiality of the auto-ranging feature in a DMM?
The auto-ranging ease it up to move to different measuring scales promptly without compromising the accuracy of the reading.
Why the high safety rating matters so much?
When you're working with high voltage, the lower safety rating can easily lead you to a dangerous situation. But the one with a higher safety rating minimizes that chance.
Does a DMM with True RMS vary in price against the one without it?
Yes, they do. It's not that you'll always need your DMM to have TRMS, but if you want one, it might be a bit pricy. Don't worry; the price won't break your bank.
Final Words
The prime condition of ending up with the right DMM is understanding what you need, and the same goes for the best multimeter under 100 too. As there's a ton of them out there, you need to understand what can fulfill your need in the first place.
We've already got you a list of the finest ones to ease up that part. They all have their own share of excellence in different aspects. Now you decide which one you want to put your money on.