5 Best 3/8 Air Ratchet in 2022 (Buying Guide)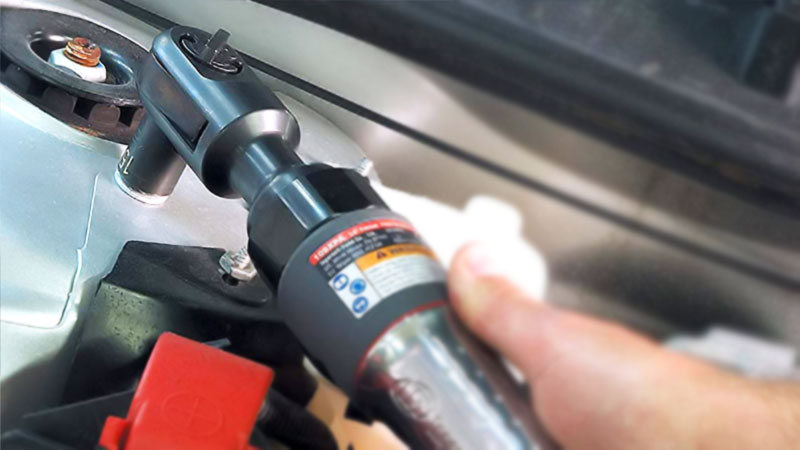 Having a hard time screwing on nuts and bolts on your latest project?
Well, why don't you take some time out to look at a few good air ratchets? These nifty little tools will allow you to save time on trivial tasks so you can really focus on the important bits.
Using sub-par ratchets can be risky as they tend to fail in tightly securing your bolts in place. And with numerous hardware brands offering their version of the best 3/8 air ratchet, deciding on one can be quite daunting.
So today, we will be looking at our top picks when it comes to air ratchets. Hopefully, by the end of this, you will know which tool suits you best.
The Best 3/8 Air Ratchet Review
We have put considerable hours into our research to bring you our top five picks based on speed, torque, and durability.
1. Editor's Choice: Ingersoll Rand 170G Edge Series Drive Air Ratchet
To start off our list, we have this 3/8 air ratchet from Ingersoll Rand. The 170G is one of the most well-known air ratchets under $100 in the market. It manages to feature a compact design without having to compromise on the power. Running at a constant speed of 170 RPM, this tool is light and portable while a true beast on the inside.
Versatility is key with any power tool. You need to be able to work with smaller delicate objects as well as heavy and large ones. The 170G has the perfect RPM and torque combination, making it the perfect air ratchet for lug nuts.
Whether you want to be delicate with smaller bolts or need more force with larger ones, this tool has got your back.
When investing in tools, you will need one that's rugged and will last for the long haul. Each of the products from Ingersoll Rand is made from the best quality materials.
Upon taking the air ratchet in your hand, you will notice its lightweight yet sturdy construction. The head of the ratchet has also been heat-treated to boost its longevity.
What's more, the ergonomic design contributes to countless different features of the ratchet. With high pressured air ratchets, you need to have a firm grip on the handle before pressing down on the trigger.
The design on the 170G allows for a strong grip avoiding the risk of injuries. Also, the body design adds to the torque accuracy, allowing you to take on the tightest of bolts.
Pros
Lightweight Design
Easy-to-hold handle
Delivers a high power output of 170 RPM
Compact design allows you to reach tight spaces
Cons
Struggles to deliver well with heavy-duty tasks
Doesn't come with additional accessories
2. Best for Cars: Aircat ACR802R 3/8-Inch Ratchet
Strongest yet the lightest, the Aircat 802 is truly one that cannot be missed. When it comes to screwing or loosening the tight bolts of cars or other heavy objects, nothing does the job better than this. Featuring a well-balanced torque to speed ratio, the 802 is all you'll ever need to boost productivity in your workshop.
For starters, this Aircat air ratchet has a fast motor speed of 280 RPM. This ensures that you spend less time in disassembly or reassembly and focus on the other important parts of your project. With a max torque of 90 ft-lbs, it will get all your nuts and bolts loose within a matter of seconds.
Moving on, the device features an innovative feather trigger that allows more control. This enhances the versatility of the device by letting you control the level of intensity. When working with smaller bolts that don't require heavy torque, you can lightly press the trigger to apply a little bit of force to unscrew them.
What makes this device ideal for workshops with a high workload is its ergonomic design. Aircat has spent a great deal of their time in making this air ratchet comfortable to use for long periods of time.
Its handle has been specially designed to reduce stress and fatigue in both the arms and wrists. Also, the vibration of the device has also been minimized in order to boost comfort.
The 802 comes with a fine-tuned exhaust muffler that allows the ratchet to retain most of its power. When the air is discharged, it does not create backpressure and exits smoothly, reducing the noise by a great margin. When measured, the highest level of noise received was 82 dB.
Pros
Compact design fits in tight spaces
Reduces noise when working by a great margin
Lower levels of vibration make it easy on the hands
Ergonomic design for a firm grip and more control
Feather trigger to allow more control in the power
Cons
Does not pack extra accessories
Ratchet head may face durability issues in high load situations
3. Best for lightweight projects: DEWALT Air Ratchet Square Drive (DWMT70776L)
Anyone who has been familiar with power tools knows Dewalt. With years of experience in the hardware industry, they have continued to provide products that are extremely durable. Whether you're going for one of their air ratchets or drills, just know that they will last you for the long haul.
The DWMT series features an aluminum body with a closed head. Accompanying the head is an air inlet 1/4 inches long. The design of the air ratchet makes use of this inlet and closed design to generate 65 ft-lbs of torque. Not only will this loosen all those stubborn bolts, but it will also secure them as tightly as possible.
In addition, Dewalt has configured a touch control trigger to give you full control of the torque. While 65 ft-lbs is ideal for most lightweight projects, you might require torque levels lower than that.
The touch control trigger lets you adjust the torque based on how gently you push into it. This allows you to use this air ratchet for tires and other smaller lug nuts.
When we look into the durability of the DWMT series, it doesn't come as a surprise. The manufacturers have done their absolute best to make this ratchet strong and long-lasting.
With the Aluminum body, it is able to reduce the weight while also ensuring a sturdy build. Also, the handle comes with a rubber cushion grip that gives you more control and precision when pressing the trigger.
Pros
Affordable price range
Lightweight body due to Aluminum build
Highly durable build
Touch control trigger
Ergonomic handle design boosts comfort
Cons
Has a loud and heavy vibration
4. Best for Motorbikes: NEIKO PRO 30119B ¼" Mini Air Ratchet
With portability and compact designs in mind, Neiko has invented the Pro 30119B. Unlike the other air ratchets mentioned, this one measures only 13.5 centimeters which makes it highly portable.
Having a massive reduction in the length of the ratchet body has also allowed it to weigh less. As a result, it becomes the ideal partner for those hard-to-reach spots.
Perfect for lightweight automotive jobs, the mini air ratchet tends to pack quite the power inside its body. Featuring a high-speed motor that delivers free speed up to 350 RPM, it will take a fraction of a second to undo any bolt.
With its miniature components, the unit is able to generate a maximum torque of 30 ft-lbs. This tends to be just right for small to medium bolts as a high torque might ruin the thread patterns.
Furthermore, weighing a little under a pound makes this device extremely portable. The vibrations felt on your hand are also less intense, which makes it bearable to work with for long hours of time. This is quite crucial when you need to disassemble parts or install them.
Pros
Extremely portable design
The 13.5-inch body makes it easy to reach tough spots
Lightweight body allows for more precision and control
Packs heavy power when compared to the size
Controllable torque with the latch handle
Cons
The torque level is too low for it to be versatile
5. Best for Automotive engines: Astro Pneumatic Tool 1119A ONYX Mini Air Ratchet
If you thought the Neiko mini ratchet was small, then you'll be shocked by our next pick. Made with the best quality materials, this compact air ratchet is just right for long hours of use. The unique body design makes it easy to hold and control even at awkward angles.
Starting off, the Astro 1119A features a wobble head anvil that enhances its ability to unscrew bolts at tight angles. When it comes to working with engines, you will need to fit your ratchet in the toughest of spots while managing to get a hold of the bolts.
The wobble head anvil accompanies the compact design to maximize access to the deep ends of any automotive engine.
If you're using air ratchets for prolonged periods of time, the noise can prove to be headache-inducing. The body of the unit has an innovative rear exhaust system with a silencer.
This technology enables the air to leave the ratchet without causing backpressure. As a result, the vibration and the overall noise are reduced by great means. Reduction in the vibration also makes it easier and less stressful on your hands.
While the device's lightweight and compact form factor makes it easy to work with, this Astro Pneumatic Tool has added an ergonomically designed grip to further enhance the firmness of your hold. With any air ratchet, the grip is important as the slightest slip can cause risky accidents.
Pros
Quiet operation due to rear exhaust with silencer
Wobble head anvil allows angular movement
Handle design enhances the firmness of the grip
Needle bearing construction aids longevity
Cons
Not versatile as it only works with small bolts with less torque
Torque range is much lower than other products within its range
Before You Buy What to Look for
When it comes to air ratchets, you need to place a keen eye on certain features and functionalities. This will allow you to better decide on a ratchet that meets your needs.
Weight and Size
You should always look into the weight and sizing of the air ratchets you want to invest in. Some people put more stress on portability features, whereas others want more comfort.
If you're one who seeks portability, you would want an air ratchet that is not only compact in size but is also lightweight. This will allow you to easily carry it around in your toolbox without adding too much to the weight of the box.
On the other hand, when looking for comfort, it is a good idea to get a ratchet that comes with a long handle. This will extend your reach and also minimize the stress on your hands.
Speed
When we talk about the speed of a ratchet, we are essentially looking at how fast the motor spins. We measure the speed in terms of RPM. It is a common misconception to think the best air ratchet has the highest speed. That is not the case since the speed entirely depends on the kind of bolt you unscrew.
If you're dealing with large bolts, high speeds will favor you more. In the case of smaller bolts, you need to be delicate with the turning motion, which can be obtained from ratchets of lower speed settings.
So make sure you consider what kind of bolts you unscrew on daily before you look into the speed settings.
Torque
Torque is the force that causes the rotation of the ratchet head. The higher the torque, the more power it has when unscrewing your bolts. When dealing with extremely tight bolts holding thick materials together, a high torque air ratchet is the way to go.
You should also know that the torque also depends on the speed and weight of the air ratchet. The heavier your air ratchet is, the more force it will exert on your bolts.
Once again, taking into account the intensity of your projects will allow you to adjust the range of torque better to suit your requirements.
Noise
This is a feature that differs from person to person. Some people have little to no issues with the noise made by the ratchet motor, whereas some find it extremely annoying.
The ideal air ratchet will produce a minimal vibration noise that ranges around 85-100 dB. This will ensure that you are completely focused on your project, as the noise can cause irritation.
However, it should be noted that quieter ratchets carry a heavier price tag than the regular ones. So make sure you take that into consideration.
How Does an Air Ratchet Work?
The air ratchet, unlike the hand ratchet, uses compressed air instead of manual labor to turn your screws. Its socket drive is connected to a pneumatic turbine that turns when air is pushed in.
When you press down on the trigger, the air is released into the inlet, which turns the turbines to generate torque. As the pressure of the atmosphere is much lower than that of compressed air, a constant air pressure runs through the ratchet.
This, in turn, creates a constant RPM. For the air to exit, there is an outlet at the end of the cycle.
Once the socket is connected to your bolt, you will be required to press the switch on the body of the ratchet. This allows you to alternate between clockwise and counter-clockwise movements. Always know which side your motor is spinning, or else it might slip out of the socket.
One thing you must remember is to hold the handle of the air ratchet firmly before pressing down on the trigger. There have been several accidents where the ratchet slips out due to the high air pressure. Also, there are several brands that provide rubber layering on the handles to increase friction and allow a firm grip.
Why Do You Need To Buy 3/8 Air Ratchet?
Any ⅜ air ratchet with standard accessories is a great addition to your workshop. While some people think that they can get away with using a hand ratchet for every purpose, we're here to tell you that's not the case.
Increased Efficiency
An air ratchet banks a lot of benefits that any workshop owner should reap. Not only does it boost productivity, but it also increases efficiency. Even with the lowest torque and RPM, an air ratchet will unscrew bolts faster than any hand ratchet in the market.
Offers The Right Torque
When using hand ratchets for low to medium torque bolts, there is a high chance of causing damage to the threads. This happens because the manual force we apply is different from person to person, and so, it is easy to over-torque the bolt.
Ultimately, the threads of the bolt can get damage which won't secure your parts well enough.
Another risk you run from using hand ratchets with these bolts is that you can easily snap off the top. There have been numerous cases where too much torque causes the stud of the bolt to snap off. This tends to create more problems rather than solving them.
Reaches Tight Spaces
One of the major advantages of using air ratchets is their ability to get into tight spots to undo bolts. When working with engines and car parts, you will often need to unscrew bolts at awkward and tight angles.
In these cases, impact wrenches or hand ratchets won't have enough space to move around. Therefore, you can only rely on the air ratchet to help solve your problems.
Air Ratchet Troubleshooting – Some Common Problem and Fix
When it comes to using any power tool, you are bound to experience performance deterioration after a certain period of time. If you use air ratchets for prolonged periods of time, a common list of problems will creep up on you soon enough.
Here are a few common problems with pointers to help you solve them.
Moisture
Upon turning your air ratchet on, if you notice any bit of moisture, you need to get to the bottom of it. When left ignored, this can cause heavy damage to the insides of your ratchet, reducing its longevity and output quality.
Signs of moisture usually mean the air pressure tank has not been drained properly. The presence of water vapors inside the pressure tank will ultimately find their way into your ratchet. We suggest immediately draining the tank of any water particle inside with the use of the drain valve.
Slow Running
If you notice that you aren't receiving the speed that was promised when you bought the air ratchet, then you must check it out. There are several different reasons that can cause your ratchet to run slower than usual.
First of all, check the connection of your air hose. Any gaps in connection with the air hose can cause you to lose a good amount of air pressure. This, in turn, will cause the pneumatic turbines to turn slower, resulting in slow speeds.
On the other hand, using the air ratchet in environments that carry large amounts of oil and dust can slow it down. The dust and oil particles will eventually build up around your ratchet head and its insides, causing a slight and gradual decrease in speed.
To rid yourself of this issue, we would advise you to clean your ratchet regularly using grease and other listed cleaning agents.
Frequently Asked Questions
What is the effect of pressure and flow of going from 3/8 to 1/4″ air line?
When moving from a ⅜ air hose to a ¼, you are likely to experience reductions in airflow and pressure. The ¼ air line will not be able to match the needs of your air ratchet as well as the ⅜ will.
How much torque does an air ratchet have?
This depends from model to model. Air ratchets have a wide range of torque variations; there is no fixed number.
Do air ratchets need impact sockets?
Yes, they do. Impact sockets are much thicker and harder than regular sockets as they have been heat-treated for prolonged longevity.
What is the highest torque air ratchet 3/8 drive?
One of the highest clocked torque is by the Aircat 805 which comes in at 130 ft-lbs.
Will a 3/8 air ratchet remove rusty bolts?
Yes, they will easily unscrew any rusted bolts you might have. Although, you may need to exert more pressure on the trigger.
What oil do I use in my 3/8 air ratchet wrench?
It is always advised to use synthetic or mineral oils on your air ratchet as other kinds might cause it to slow down.
What is the best amount of teeth for a 3/8″ drive ratchet?
The more teeth your ratchet packs, the fewer turns it will take to unscrew your bolts. When using air ratchets, the teeth don't matter as you are not spinning the ratchet handle.
How does a Carlyle ratchet work like Carlyle 3/8 ratchet?
A Carlyle ratchet will work the same way as most branded ratchets do. There is little to no difference in the inner mechanics of the ratchets.
What tooth is a standard 3/8 air ratchet?
72 tooth ratchets are most common in the market and quite favored by the population.
What size socket will fit with a 3/8 ratchet?
You need to use a 10-millimeter socket with your ⅜ ratchet.
Final Words
Deciding on the best 3/8 air ratchet for your needs can be a troublesome task and will often lead you to run back and forth between options. However, with a keen eye on the torque and weight, you should be able to make the right choice.
We don't usually pick favorites amongst our choices, but the Ingersoll Rand 170G does take the cake. Featuring a comfort-maximizing design and high torque, it should work well with most projects.
For a budget option, you can try the Dewalt DWMT. It provides a good amount of speed and torque without losing out on comfort.