7 Best Torque Wrench Under $100 in 2022 (Buying Guide)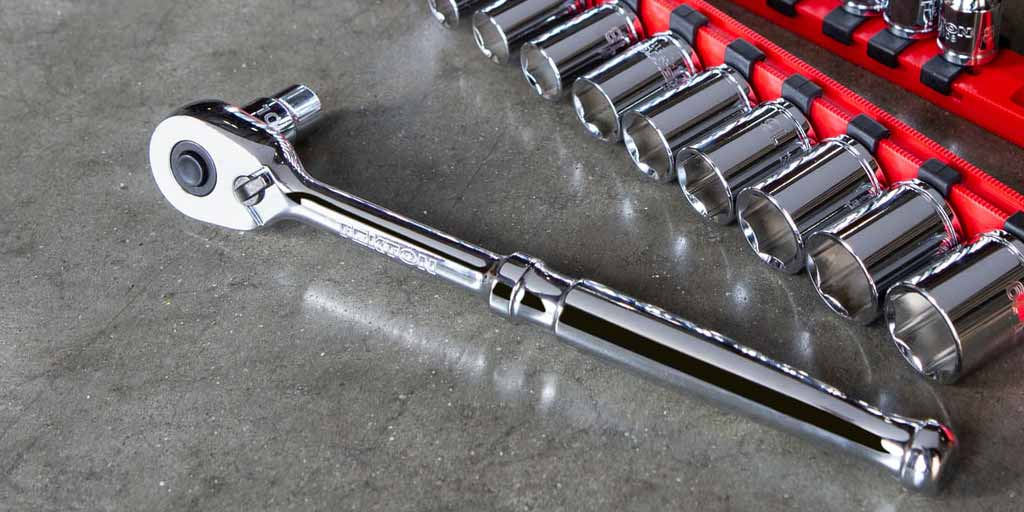 Scolding your wheel isn't going to undo the accident, is it? So, stop torturing yourself with the blame game. We know that accident is going to cost you some thick bucks. But what if it's not your wheel's fault for falling apart?
Maybe you could've avoided that by not wasting your money on a sub-standard torque wrench. But isn't it too late to throw some more cash on it? Not if you get the best torque wrench under 100.
But grabbing the right piece has never been an easy nut to crack. So, let us help you out with that. Want to know how? Well, let our next segment lead you there.
The Best Torque Wrench Under 100
It's quite normal for you to roam confused in alleys of products when you don't know which one is worth the pick. As we don't want the same for your next torque wrench, we've made a list of the top 7. Now you decide which one you find perfect for your lug nuts.
1. TEKTON 24335: Best for Overall Performance
This highly durable and solid steel made wrench is meant to serve you with the best performance. Once you grab this wrench, the first thing that will catch your eye is its super easy-to-read dual-range scale that you can see clearly even in the lowest light. By the way, it has no plastic part to get damaged.
Thanks to its reversible ratchet head that won't let you take a headache on driving directions as you can go on both sides. Though you can measure torque only in a clockwise direction, it won't be a problem as you can slip it through the tightest space.
Seems team TEKTON love good numbers. Otherwise, how something as ±4% reading accuracy would've been there in the first place? But the best part is yet to come. It's the click sound when it reaches the desired torque setting. So, if you're thinking about questioning its reliability, then we guess you've got the answer.
Pros
Made of durable and solid steel
Comes with easy-to-read dual-range scale
Can perform torque measurement in tight spaces
The accuracy range is perfect
No plastic parts to get damaged
Cons
Its torque adjusting mechanism could've been smoother
2. EPAuto ST-010-1: Best for Budget Segment
There're basically three prime features that make a torque wrench perfect for a job – precision, quickness, and ease. So, if you have something like that in your mind, then you're probably looking for none other than the ST-010-1 from EPAuto.
Its ratchet head made of Chrome Vanadium (Cr-V) steel alloy is so durable that you won't have to think of swiping your card in a long while. Moreover, the corrosion-resistant feature with its satin finish ain't going to let you mess with its visual appeal as well.
For making things much more precise and to get you maximum ease on usage, it comes with two different accessories. One is the long extension bar with a size of 5″ and 3/8″ drive reducer. Now, not too many of the tasks are going to be a big deal for you anymore. Plus, the dual-range scale has just pushed the ease higher.
Like any of the finest pieces, this one also comes with a sound indication. This means a simple "click" will let you know if you've reached your preset torque value or not. On top of that, with a pre-calibrated reading accuracy to ± 4%, the only thing you're going to end up with is the perfect performance level.
Pros
Maintains a higher durability level
Corrosion resistance keeps it good as new
Precise and easy to use
Comes with useful accessories
Sound indicator for reaching preset torque value
Cons
Having a calibration certification would've been better
3. ETORK EC3250: Best for Dual-Directional Operation
Nobody said perfection comes at a cheaper price. But it looks like team ETORK has decided to change that a bit with their EC3250 Digital Torque Wrench. After all, they've poured all of their efforts into making it your best torque wrench for under 100.
Unlike lots of the competitors, team ETORK hasn't repeated the same mistake on operating directions on this 25-250 lb.ft ranged wrench. So, this time you won't have to take it to the clockwise direction (± 3% accuracy), but you can go counter-clockwise (± 6% accuracy) as well.
But if it's the ease is what you find most important in a torque wrench, then you're going to love its durable 45-tooth ratchet head for sure. As that's made of alloy steel, it brings in all the strength you need right there. Its slim and lighter design deserves appreciation as well for taking the comfort to a whole other level.
Along with its reliable locking knob for keeping the selected torque setting secure, another feature will literally blow your mind. It's the sensitive, consistent, and precise ball-bearing release mechanism of EC3250 we're talking about.
Pros
Can operate in clockwise/counter-clockwise direction
Boasts a reliable locking knob
Highly strong and durable
Comes in a slim and lighter design
Sports an efficient ball-bearing release mechanism
Cons
Having some small adapters would've been better
4. AKM BS001: Best for Multiple Sleeves
Is it your first time with torque wrenches? If not, then we're guessing you already have some idea about the efficiency level of industrial-grade wrenches. But having them within budget has not always been that easy. Thankfully, now there's the BS001 torque wrench for lug nuts from AKM that jumped in to bring some exception to that.
To eliminate your worries, team AKM has got it the measuring range of 20-160ft./lb 20-210Nm. Hold on! You're looking for the ratchet head? Well, then there's one waiting for you with super sturdy Cr-V steel alloy construction. Plus, its three-side bite teeth come with no chance of slipping.
That's not the end. As it's capable of functioning in dual-direction, you won't have to stay stuck to the regular clockwise operation. Moreover, its aluminum-titanium alloy handle will help you to get a solid grip over it. A fair share of thanks goes to its knurled design for that as well. By the way, it's anti-rust and anti-skid too.
Waiting for the best part? Here it is then. It comes with sleeves of different sizes that'll nail the job with pure perfection. And yes, you won't miss the 'click' here as well once you hit the preset value. Along with that, the makers have got it the accuracy range of ± 3% for more precise performance.
Pros
Comes with a super sturdy construction
Made as anti-rust and anti-skid
The accessories are highly helpful
Perfect handle ensures solid grip
Capable of dual direction operation
Cons
5. ACDelco ARM601-3: Best for Inbuilt Standard Functions
These days people love doing things in an easier way, and we bet you do too. So, if you're bored with the traditional torque wrench and need to get it all on an easier level, then we've got something for you. It's the ARM601-3 Digital Torque Wrench from ACDelco we're talking about.
Now, it's tough to pick any one feature as team ACDelco has literally converted it into a pile of useful features.
Yet, we think its digital meter is worth a shot, where you can have a view over the reading the way you want, whether it's in-lb, ft-lb, kg-cm, or N-m. Plus, with those knobs you see around, you can go for any value to keep it precise.
Now let's have a glance over its inbuilt standard functions as there's three of them. Torque settings, mode settings, and measurement settings – these three are meant to help you out with all your desired working mode. And the accuracy range? It's ± 2% clockwise and ± 3% Counter-Clockwise.
By the way, it comes with an audible buzzer that makes sure you know if you've reached the torque value or not. And yes, this 2.8 pounds torque wrench with its 1.5 x 1.5 x 12.2 inches size can go anywhere you want. So, there's no way you can give it anything less than a full mark on portability.
Pros
Digital meter and knobs made it easy to use
Made highly portable and lightweight
Comes with inbuilt standard functions
Audible buzzer replaced traditional 'click'
Boasts a functional accuracy range
Cons
Has no vibration feature like their other models
6. LEXIVON LX-184: Best for All-steel Construction
Come on! Who are we kidding? You've already seen the headline, and you know we're about to get started with the LX-184 from LEXIVON this time. That's because we think it's time to review something that nails the performance part along with the design.
No, you can't evaluate the performance by just glancing over the cover, but the design speaks a lot for this one. Especially its dual-range scale with highlighted yellow print has made it more readable than ever, even in low light.
And do we need to say anything about its reversible ratchet head that comes with bi-directional driving?
Though it can measure torque only in a clockwise direction, that ain't going to be an issue with its smooth performance. And if it's the accuracy you're taking headache about, then we think +/– 4% is going to be more than enough for any of your tasks. Moreover, it comes with the calibration certificate as well.
One of the disappointing facts of some of the high-end wrenches is using plastic parts that are quite vulnerable for a wrench. But thanks to team LEXIVON for keeping this one plastic-free. On top of that, its all-steel construction left no scope for questioning its durability.
Pros
Comes with durable all-steel construction
The dual-range scale is readable in low light
Boasts a better accuracy range
No plastic parts for wearing out
Equipped with calibration certificate
Cons
Not for them who doesn't like a contemporary design
7. ETORK Click Cycle Torque Wrench: Best for the Ergonomic Design
There's nothing new to say about ETORK as you've already got to know what they're capable of. Their innovative perspective has always been worth the applause, and with this Click Cycle Torque Wrench, they've proved that point once again.
Durability has always been the top priority of team ETORK. So, to keep you tagged to this wrench, they've given it the alloy steel housing, which not only has made it durable but also stronger than ever. And don't worry about the bi-directional operation as its 45-tooth ratchet head is there for you to deal with it.
Once again, the makers have filled it up with consistency, sensitivity, and precision through its ball-bearing release mechanism. But that's not the wow-factor here. It's the soft-grip large-diameter, ergonomic handle that has simply taken down the turning force to 50%.
But that's not what has taken this one step ahead from its competition. Any guess? No, it's not the ± 3% accuracy. Well, it's the metric and English scales that have pulled it off. If you're planning to go for comparison, then be sure this wrench is going to be much easier to read.
Pros
Alloy steel housing ensures higher durability
Boasts a high level of precision, sensitivity, and consistency
Can go for a bi-directional operation
Ergonomic grip lowers effort
Sports a decent accuracy level
Cons
The handle binding could've been smoother
Things to Consider Before Buying Torque Wrench Under $100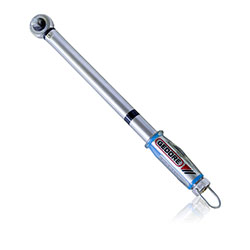 No one is stopping you from going to the store and picking any random piece written 'Torque Wrench' on it. But the thing is, this way, all you can get is a wrench as good as a worthless metal rod. So, if you don't want to mess this up, you better check out certain factors like –
Accuracy
Compromise on the accuracy level and mark our word, you'll end up in nothing but wasting your bucks. The matter of fact is a wrench that can't get you the precision level can surely fail you on hitting the right point. So, don't even think about picking a piece that's offering less the ± 2% accuracy.
Material
Don't forget that the material you're grabbing is what will be holding the bridle of durability here. So, if you pick the wrong one, then in no time, you'll have to put the hands in your pocket again. Get a metallic tool that's made of steel alloy, and you won't have to sneak a peek on any other one any sooner.
Ratcheting Feature
You're not planning to go on just a clockwise pattern, are you? If you are, then we have nothing to say, but if not, then you better grab a wrench with ratcheting feature. After all, that's how you can keep it bi-directional (clockwise and anti-clockwise).
Grip
Wait a minute! Who told you that any random grip would be okay here? If the grip handle is not good enough, then you can forget hitting the ceiling of performance with the wrench. It's not that all plastic handles are bad, but picking one with a knurled design will get you a better grip even if your hands are wet.
How Do You Use a Torque Wrench?
If you're an old player in the game, then there's no need for you to take a headache on how to use a torque wrench. But if you're a newbie, then you better know how to make an efficient piece like this useful for your ride.
Things are easy to learn when you're known to the steps. So, to ease that up a bit for you, we've taken the liberty to explain the process step by step. All you have to do is just follow.
Step – 1: Adjust Your Torque Wrench
At first, look at the end of the handle where you'll see the tightener that is used to lock the wrench's settings, which you can also call the lock nut. The first thing you need to do is loosening it by twisting clockwise to set a new value.
Step 2: Finding and Identifying the Torque Measurements
Check out the handle area where you'll see a set of large numbers and a set of small numbers. The larger numbers are the indicators of larger units, and the small numbers are of smaller digits. Here, the smaller one is for measurement in foot-pounds, and the larger one is for measurement in meter-kilograms.
Step – 3: Turn the Dial to Adjust Torque Setting
Let's assume that you need a torque of 105 ft-lb. If that's the case, then start rotating the handle clockwise till you reach the 100. Once you start the rotation, each time you rotate, it'll go up, and you'll have to keep doing that till you reach where you need to.
Now, after you get there, check out the numbers on the handle where you'll get to see the smaller number. As you need it to be 105, lightly rotate it till you reach the number 5. After that, twist the lock nut to lock it. Locking is important; otherwise, the setting might change accidentally while using it.
Step – 4: Putting the Socket on the Wrench
Now pick your required socket and put it on your wrench. Then check out if the lug nuts are in their place properly or not. If they are, then put your wrench on it and start tightening it.
Step – 5: Waiting for the 'Click'
Once you reach your desired torque value, you'll hear a click. Once you hear that, get your wrench out of there as you're done.
Frequently Asked Questions
Within how much time one should recalibrate their wrench?
Usually, it's suggested that one should recalibrate their wrench once in a year. But if you're a frequent user, then you can do so every 5000 cycles.
If a ratchet head gets broken, does it need a recalibration?
If you've broken the ratchet head, there's no need to recalibrate it. That's because repairing doesn't affect the calibration.
How should one store a torque wrench for a longer period of time once they're done using it?
If you're planning to keep it away for a long time, then wind it down at its minimum scale setting. And remember, don't ever put it to zero.
Is there any problem with multiple clicking in a torque wrench?
It's been seen that some users wait for multiple clicks. But the problem is, this way, they add some additional torque to the bolts. One single click is enough here.
Why locking the wrench before using is so important?
Because you don't want any accidental changes in the setting while working.
Final Words
When you're looking for the best torque wrench under 100, things might not go as you want. But that's only when you don't know how to grab one in the first. So, we've given you all the finest options that can be useful on your way with the ride.
They literally can keep pace with your each and every requirement. But at the end of the day, it's you who have to make the call. So, making no delay, pick yours and finish the job you're up to.