7 Best T Handle Allen Wrench Set of 2022 (Buying Guide)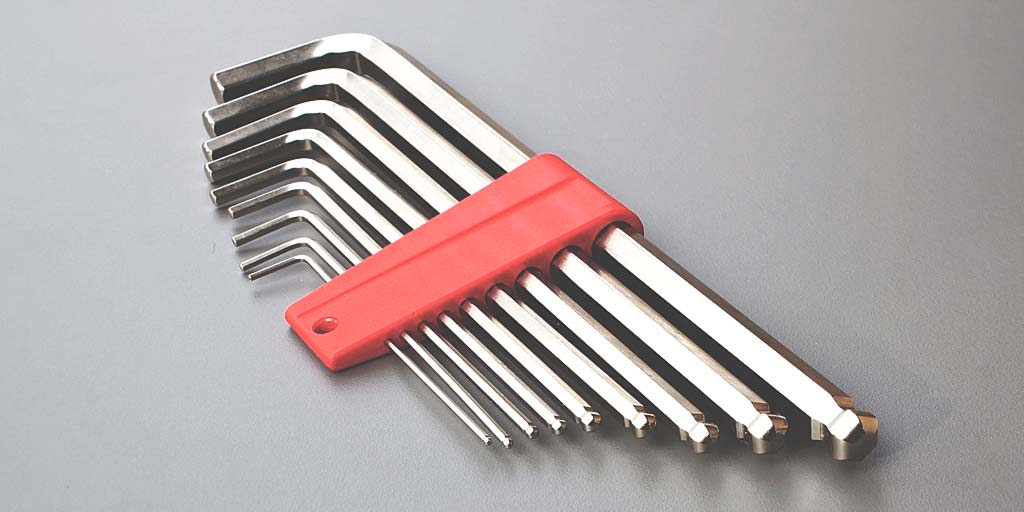 Perhaps you've been working with traditional Allen wrenches, and you want to switch to something new. Or you want something a bit more comfortable to use. Say no more! T Handle Allen Wrenches offer all the benefits of standard wrenches and more!
It can get pretty confusing when you're trying to pick just one set. So we've gathered the top ones so that you can pick out the best T handle Allen wrench set for you!
Just imagine doing all the rough projects with a greater degree of control and the ability to apply more force. A T Handle Wrench would make your life so much easier. But the question remains, which one should you get?
Top 7 Best T Handle Allen Wrench Set
Now that you know how a T Handle Allen wrench set can help you out, let's move on to the reviews.
1. Bondhus T Handles – Best Overall
We're starting our list off with a bang. This T handle set with a durable stand from Bondhus is one to look out for. You probably can't manage a better deal. The entire set comes with everything but the kitchen sink. Let's dive into the features.
Bondhus make some pretty formidable tools, and they have made quite the name for themselves. This T handle wrench set also sets it apart from the rest of the competition. If you're worried about versatility, you can stop worrying right away.
This one comes with ten different Hex sizes, including the most common ones. The different sized hex keys will help you out with maneuvering.
If you think your hands will get numb while using these, you're in for a surprise. The cushion grip on the handle makes for a perfect feeling T handle. So you won't have to worry about continuous use.
In case you're used to traditional T handle wrench sets, you might have experienced many broken handles. But with the Bondhus set, you can expect up to 20% more durability. The Protanium steel makes sure of it!
Throw away your rusty old T handle wrench set, as this one will stay shiny for an extended period. Thanks to the ProGuard Finish, the entire set looks new even after years of use.
Pros
ProGuard finish for better rust prevention
10 different Hex sizes
Protanium steel for durability
Cushion grip on the T handle
Cons
Insulation of some handles might not be perfect
2. Klein Tools T Handle Wrench Set – Best For Maximum Control
Here is another belter of a wrench set, and this one is from good old Klein Tools. The company's been making tools for quite a long time now, and they're still in the game as they don't disappoint with their products.
You can get this set in three different sizes, but the 6" choice is the best one to get if you're confused. And you can either pick out the ten-piece one or opt for two fewer pieces according to your needs.
The hex head styles are all made from premium steel, making the build quality twice as good. You can expect twice the power compared to standard wrench sets as the T handle is built formidably.
You're probably getting used to hard touch plastics while operating with traditional wrench sets. Your hands will thank you for using the super soft and comfortable soft-touch grips. The softer material on the T handle will also allow you to gain more control.
It gets annoying when some wrench sets don't mention the sizes on the handles. Well, this one has the sizes laser etched onto the blades. So always pick the right one without a doubt.
You'll even get a metal stand with the 8 or 10-piece wrench set. Even though this doesn't sound too premium, some people love to keep things organized. And if you're one of them, you're going to love this.
Pros
Available in different sizes
Sizes are laser etched on blades
Soft-touch grip handle
Metal stand included
Cons
Ends sometimes twist too easily
3. Powerbuilt Metric T Handle Wrench Set – Best for Professionals
If you're looking for a wrench set for your job, you're going to love this. Powerbuilt makes some fantastic tools and equipment, and this wrench set is one to beat. You can assume that it screams quality from a mile away.
A problem with traditional T-handle wrenches is that they make it extremely hard to work efficiently. But thanks to the sliding T handle of this Powerbuilt one, you can work faster and get more work done quickly.
Even though the set comes at a comparatively higher price, it can be somewhat justified. The eight-piece set comes with a large 10Mm wrench, and that thing can reach up to 11 inches. So you can reach the nooks and crannies quite easily.
This T handle has been developed to fit in the natural hand-shape. So you can expect to use this set of wrenches as comfortably as you can. Even the smallest of the wrenches will provide a positive grip so that you can kiss your worn out wrenches goodbye.
Twirling the bolts down will become extremely easy if you're planning to get this one from Powerbuilt. But it isn't all sunshine and rainbows. We had one gripe about the wrench set. The aluminum sleeve doesn't stay put. So you can remove the sleeves to increase your productivity.
Pros
Extended reach with each wrench size
Positive grip even with the smallest one
Built like a tank
Ergonomic T handle
Cons
4. Eklind Cushion Grip Hex T Handle Wrench – Best for Sweaty Hands
Next up is this unique looking T handle Allen wrench sets from Eklind. You might not have heard about them much since they don't spend a lot on marketing, but you can rest assured that getting this set will make your life easier.
You probably wouldn't think that these are what they say they are at first glance. They look pretty unorthodox and unique. But don't underestimate this set of wrenches, as this is pretty much one of the best T Handle Allen wrench sets.
If you doubt the build quality, let me tell you that they are made from industrial grade alloy steel. So it would help if you didn't worry about durability at all.
The entire set comes with 8 different sized wrenches, and you will get all the standard wrench sizes. If you work with hexagonal socket fasteners, then this set of wrenches will make your job a lot easier.
Moreover, the steel is tempered, and the edges are chamfered to give it that extra premium feel. So you will feel like you're handling something expensive when you're working with these.
If you're a fan of longer shafts, then be prepared to see one of the longest boys on our list. The size isn't just for show; you will get extra leverage with it too. And if you're one of those guys who can't seem to stick the wrenches into the nooks, then this one will have you covered.
Pros
Longer shaft for extra leverage
Unique T handle design
Eight different sizes
Cushion grip for better handling
Cons
Unique design might not work out for everyone
5. Harbor Freight Tools SAE and Metric Hex Key Set – Best for Durability
Now we have this unique hex key set from Harbor Freight Tools. They have made themselves known by making some fascinating hardware over the years. Although they've just started to gather limelight, they are pretty good at what they do.
And the quality reflects on this set of Hex keys from their lineup. The whole set comes with a total of 18 pieces. 9 of them have grey T handles while the other 9 have Red T Handles.
And you can expect long-lasting durability as they incorporate great quality steel into their products. But this does come with the added weight.
If you keep durability on top of the priority list instead of lightweight, then this set brings some of the best T Handle Allen Wrenches for you!
Are you worried about where you'll keep all 18 of these hex keys? Don't fret, because you get a high-quality stand with the set too. So if you're someone who likes to stay organized or if you lose your mind when you can't find your stuff, HFT has you covered.
Pros
18-piece set
High-quality metal stand
Ball end hex keys included
Both SAE and Metric system compatible T Handles
Cons
Smaller wrenches are a bit weaker
6. Eklind 64808 Power T Handle Ball Hex Key – Best for Leverage
Well, what do you know? Another one from Eklind. So you can imagine how good their products are to show up on the list twice. They are a bit different in construction than the other set though, let's show you why!
Although they don't look the same as the other set from Eklind, they bring the same rugged build quality to the mixer. So you can expect this to be your once in a lifetime investment if you're lucky.
Moreover, you can get this set of Allen wrenches in 4 options. You can stick with the one pack or choose from 2,3, or 4 packs according to your needs. If you have a whole team to work with, consider getting the biggest set.
You'll get eight wrenches in the entire set with varying sizes. And if you have trouble driving hexagonal fasteners, this set of Allen wrenches can do it all! The same alloy steel comes into play in this case too.
The best part about this set is that they can work in inclined angles too. Even though the angles aren't too crazy, they can still function properly at 30-degree angles. So, reach those tough to reach places with ease.
These Hex Keys come with added shaft length, too, so you can expect extra leverage. This will also allow you to maneuver things with a bit more comfort.
It's quite normal to get mad at your tools when they aren't working like they're supposed to. You've probably seen your colleagues rage at their tools too. Some tools can even hurt you while using them. But the added padding on the T handles of this one will allow you to work with ease.
Pros
Comes in 4 variants
Extra reach and leverage
Comfortable cushioned T handle
Up to 30-degree working angle
Cons
Some items may get damaged while shipping
7. Craftsman Hex Key Set – Best for Longevity
Our final entry on this list is a belter of an Allen Wrench set. They're from one of the best-rated brands, Craftsman, and they come with quality materials. You probably won't get a better value for money than this one. And you'll find out why in a bit!
The best part about these hex keys is that they're coated with black oxide. This makes the product a lot less prone to rust. So you can pick them out after a couple of months in the shed and still see them shining.
Furthermore, the unique T handle design allows for a better grip. That's not all; the comparatively longer length of the shaft helps provide higher leverage and keeps you safe from accidents.
This set comes with a pretty sleek looking storage rack too. People might mistake that for your lunchbox too. The box keeps things organized, as they should be.
If you're tired of the L handles and their tantrums, you can switch to these T-handle wrenches to experience ultimate comfort.
Pros
Higher leverage
Sleek box for better storage
Comfortable T handle
Black oxide coating treated
Cons
Big handles for smaller hands
What to Look for Before Buying T Handle Allen Wrench
With that out of the way, let's move into some of the factors that you should consider before making your purchase.
System
One of the first things to consider before buying a T Handle Allen wrench set is the system it uses. Not all the different systems will be suitable for you. So picking the right one is truly important.
Some of them are metric system, while others are SAE. But you can find one or two that work under both systems. You can go with either one depending on the system of the other tools you use.
Size
The next thing to keep in mind before buying the best T Handle Wrenches is the size. Even if you're a professional, you might never need some of the bizarre sizes that some sets come with. So why pay for something you'll probably never use?
Just get a wrench set that comes with all the standard sizes. The chances are that you can borrow a couple of unique sizes from your coworkers too.
Handle Format
Handles are sometimes relatively neglected when it comes to picking Allen keys. But they're one of the most important things to consider while buying them. The type of handle might affect your work more than you think.
That's because the weaknesses and strengths of the wrenches depend on the different types of handles. If you're looking for ultimate comfort, pick out a set that comes with cushioned handles.
If your hands sweat too much, avoid plastic handles. They can slip out of your sweaty hands, and that, my friend, is an accident waiting to happen.
Chamfered Edges or Ball Ends
You'll be surprised as to how many people tend to overlook this tiny detail while buying a new set of Allen Wrenches. Both the systems have their benefits and drawbacks.
So which type do you get? It depends. But to be on the safer side, pick a set that comes with wrenches with both ball ends and chamfered ends. It's easier to work with chamfered ended wrenches as they can latch onto the bolts.
The Material of the Shaft:
The last thing to consider before going out to buy your new set of Allen wrenches is the shaft material. If the shaft breaks, you can render your wrenches useless. So you've to find a set of wrenches that uses some steel alloy on the shafts.
All the newer wrenches nowadays come with steel shafts. Some even have black coatings to prevent any rust. You will just fine with any T handle wrench that comes with steel shafts.
Frequently Asked Questions
Which is the best T Handle Hex wrench?
It depends on what you've been using and what you prefer. But all the T Handle Allen wrench sets on this list will make your job easier.
Are Hex Keys and Allen Wrenches the same thing?
Yes, most people don't know this, but the terms Allen wrench, Allen key, or Hex Keys are used interchangeably.
Which is the smallest size of Hex Keys?
Allen wrenches, or hex keys come in a bunch of standard sizes. But the smallest of them all is the .71mm wrench. You can work on the smallest of bolts with these little puppies.
How do I find out the size of my Allen key?
Most Allen keys will have engravings or etchings on the side of the shafts. They show the size in either decimals or fraction numbers.
Why Are They Called "Allen Keys"?
The Allen Company first manufactured these brilliant pieces of engineering. They were named after the company, and the name stuck.
Final Words
A set of Allen wrenches can make your life a lot easier. Whether you work in construction or on another site, you can make the most of these little wrenches. But it can be tricky to find out which is the best T Handle Allen wrench set.
That's why we've gathered some of the best Allen wrench sets on the market for your convenience. You can pick any of these, and you won't even complain. So, be sure to compare the features and go for the one you like most.