6 Best Corded Drill Under $100 for Your Project (Buying Guide)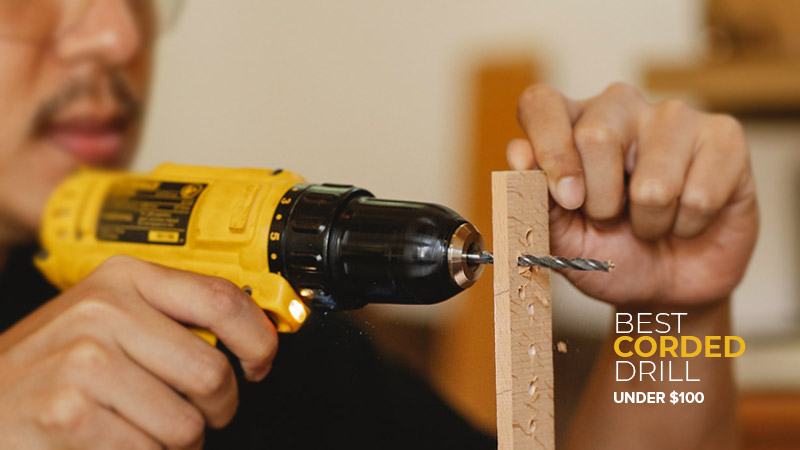 Even though the battery-powered drills might seem like the ones you should go for, they do not really shine that bright when it comes to offering an extreme level of power. And we learned that recently, where we used a battery-powered unit to work on reasonably dense material. Guess what? The thing got busted.
Now, with one drill that was fried up, we were not ready to spend tons of money to get a new drill. Well, that is where the idea of the best corded drill under $100 crept up. And believe us, people do not really expect that much from this price point, but the experience we got said otherwise.
What Are the Advantages of a Corded Drill?
There are mainly two types of drill machines. One is corded, and the other is cordless. However, there are some divisions on the corded machines, such as right angle corded drill and rotary hammer drill. But that is not our main concern here. What we are going to describe is the advantages, and they are as follows:
Power: One of the main selling points of the corded drills over the cordless version is the power. These pack a highly potent motor, which is capable of offering a high level of power. For that reason, most people opt for these when trying to make holes in dense materials. Many also prefer a corded drill for driving screws.
Convenience: Apart from being highly capable of offering a good amount of power, these offer a higher level of convenience as well. There will be no need to worry about the battery dying out on you. Also, these are ideal for working for a prolonged amount of time.
Affordability: Unlike the cordless versions, these will not break your bank. Most of them are well under the affordable or budget segment. And the great thing about these affordable ones is that they offer stellar overall performance for the money.
The Best Corded Drill Under $100 Reviews
There are plenty of options out there in this price segment. However, not all of them do offer the level of performance to become recommendation worthy. For our corded drill review section, we have chosen only those that offer that standard level of performance. And the review section goes something like this:
1. DEWALT DWD115K
When it comes to offering electric drill machines, one of the most reliable brands is Dewalt. They are pretty well-known for offering high-performance power tools in the market. And the same thing can be seen for this unit we have in our hands.
The thing that makes this power tool offer a high overall performance is the motor. It packs an eight amp motor, which is capable of withstanding heavy-duty work scenarios. Also, it can make the attached drill bit spin exceptionally fast. The highest RPM level is 2500.
On that note, you will have full control over the RPM. There is a VSR trigger, which will provide complete control over the speed. Carrying out different fastening with a screwdriver bit and drilling applications with regular bits will be a breeze with this.
Talking of bits, it comes with 3/8 inches chuck. This ratcheting, keyless, and all-metal chuck features a unique design. For that reason, it has a greater level of bit retention. Bits are not going to come off that easily when you are trying to carry out a heavy-duty drilling or fastening task.
Thanks to the motor having an all-ball bearing construction, it should last for a long amount of time. Also, that construction will ensure stable overall performance throughout the entire lifespan. And it has a mid-handle grip with a soft rubber coating. This grip will offer a higher level of comfort and balance.
Pros
Sports an 8 amp motor
The motor has an all-bearing construction
Comes with a VSR trigger
Chuck is keyless and of all-metal
Features a mid-handle grip
Cons
Position of the direction switch is not proper
Some of the units might have too sensitive trigger
2. BLACK+DECKER DR260C
Just like the brand Dewalt, BLACK+DECKER has been around in the power tool market for a long time. And they are offering pretty reliable drill driver machines lately. And this unit is a perfect example.
So what makes this one reliable? The answer would be the motor. It has a 5.2 amp motor that can offer consistent drilling performance. The chuck can rotate at a staggering 1500 RPM, which is pretty much up to par with some of the high-end machines out there.
Even though this one is pretty powerful, it is not heavy at all. The overall weight of the machine is just 3.25 pounds. This lightweight nature will make maneuvering the machine around an easy task. Also, thanks to the light body, it would be possible to operate it with a single hand.
Additionally, it is reasonably small in size. The compact form factor will make the storing task hassle-free. Also, for the small size, you would be able to cram it in small spaces. Getting holes done in tight spaces will become an effortless thing with this.
Apart from that, it is going to provide full control over the drilling operations. And it is capable of offering that for having the variable speed mechanism. With that, you would be able to control the overall RPM and set it at different parameters. It even has built-in bit storage, making it convenient to work with different bits.
Pros
Sports a 5.2 amp motor
Can rotate at a max speed of 1500 RPM
Offers a variable speed mechanism
Packs a built-in bit storage space
Compact and lightweight
Cons
Makes a lot of noise
The speed control mechanism is a bit finicky
3. SKIL 6335-02
On the hunt for a drill machine that can handle large-sized bits? Well, you can stop your search right here because SKIL is probably offering the unit here!
As we have mentioned, this one has a ½ inches chuck. This keyed chuck holds the ability to accept large bits. And by large, we are referring to the large diameter ones. Yes, it would be possible to make reasonably large holes on workpieces with this. There will be no need to worry about that factor.
Being able to handle large-sized bits is not the only highlighting thing about this power drill. It also boasts a reasonably competent motor. With a 7 amps rating, the motor can plow through heavy-duty drilling and fastening tasks. You will not feel like the machine lacking one bit of power.
In addition to that, it sports a side handle. This assist handle will increase the overall control of the machine. And with a higher level of control, you would be able to make precise holes on workpieces. Also, the handle has an ergonomic design, making it possible to work for a longer amount of time.
On that note, it has a variable speed trigger. With that, changing the overall RPM will be an easy task. Also, the overall weight is reasonably low. It weighs just 5 pounds, making it stand comfortably with lightweight machines. And this lightweight nature will eliminate the chances of fatigue occurring while operating.
Pros
Sports a ½ inches chuck
Packs a 7 amp motor
Boasts a side handle
Reasonably light
Cons
Some of the units do not have the side handle properly attached
Not that small in size
4. GALAX PRO 5Amp 1/2-inch
The brand GALAX might not be that well-known, but they do have good power drills to offer to the market. And from their large lineup of products, this is the one that stood out the most.
Firstly, the unit has an adjustable speed dialer. This mechanism will offer the ability to switch the RPM rate from anywhere between 0 and 3000. Yes, this one can also go up to 3000 RPM. And for that max rating of RPM, working with tough and dense materials will be a breeze.
Additionally, it equips a ½ chuck. The chuck is of metal, which makes it highly durable. And for the level of sturdiness it has, it should be highly capable of withstanding the demanding workloads. Also, it accepts the large-sized bits, which is always a positive thing.
The machine even has a lock-on button. That will eliminate the need to hold onto the power button for the whole time. So, there will be a lower chance of you facing fatigue while operating it. Also, it has two different operational modes. One is the hammer mode, and the other is the regular mode.
Lastly, it bundles with a large number of accessories. The package includes 105 pieces of attachments. Those are going to come in handy in different situations. Also, you will find a box to properly carry and store all of those attachments.
Pros
Equips a speed dialer
Can offer a maximum of 3000 RPM
Comes with a ½ inches chuck
Features a lock-on button
Bundles with a plethora of accessories
Cons
Might ship without a chuck key
Tends to overheat from time to time
5. TACKLIFE PID05A
Ergonomic design and high overall performance are two of the things that are not commonly found on these machines. However, we have managed to find one. And yes, it is from TACKLIFE.
Let us start by talking about ergonomics. This one has a unique chuck design. The design will make securing the bits feel like taking a walk in the park. It even has a torque adjustment setting right, which will make the task of securing the bits a whole load easier.
Secondly, the performance! The motor of the unit has a 900 watts rating. And the amp rating is 7.5. Those two combined make it capable of offering a high hammering power. Going through dense and tough materials will be a breeze. Let us not forget the highest RPM rating, which is a staggering 3000 RPM!
On that note, this machine has a ½ inches chuck. The chuck can accept the large-sized like its nothing. And the larger-sized spindle will make securing those types of bits an easy task. Also, for the forward and reverse switch, controlling the machine while handling complicated workpieces will be easy too.
Thanks to the metal transmission, it can dissipate the heat efficiently. Because of this trait, the motor achieves a longer overall lifespan. You can expect to get extended use out of it.
Pros
Sports an ergonomic design
Chuck can easily secure bits
Accepts large-sized bits
Can dissipate heat efficiently
Easy to control
Cons
Rotating handle is not properly designed
Some units might ship with a wobbly power button
6. TACKLIFE 1/2-Inch Electric Corded Hammer Drill
On the lookout for a unit that has a hammer function? Want something that is highly ergonomic? Well, no matter which one you were looking for, this drill machine is probably the one for you!
Much like a cordless hammer drill, this one has a pretty lightweight body. The overall weight is just 5.5 pounds, which will make the task of carrying it around easy. Also, it has a reasonably compact form factor. Such a form factor will make it easier to store it around.
Even though it might have some similarities regarding the weight and the form factor, one thing that is reasonably different is the RPM range. It can make the drill chuck rotate at 2800 RPM. And for the variable trigger, you will have full control over the RPM rate as well.
On that note, it has two different functions. One is the hammer mode, which you can use to carry out hammer drilling. And the other one is the regular mode that will make it act like a standard drill. Also, as it comes with 12 different drill bits, it will be pretty easy to work with different drilling and fastening tasks with it.
In addition to that, the handle can rotate to a full 360 degrees. For this auxiliary design, drilling at different angles will be pretty easy. Also, the handle can offer a good amount of grip. The level of grip it offers will let you achieve a higher level of control over the machine.
Pros
Lightweight
Compact and ergonomic
Features a variable trigger
Offers two different functions
Comes with an auxiliary handle
Cons
The included bits are not that durable
Does not come with a long cord
What to Look for Before You Buy?
The review section has made the choosing process a bit easy, didn't it? Well, it can become easier! But, for that, you will need to take a couple of things into consideration. By keeping those in your mind, the chances of ending up with a better and well-performing device will be extremely high. And the factors are:
Motor: The first thing you need to consider is the motor. This will dictate how capable the machine actually is. Here, check the power rating. The higher the power rating, the more capable the machine will be. And with those, it would be possible to carry out heavy-duty drilling tasks without dropping a single drop of sweat.
RPM: Even with a high-powered motor, some of the machines will have a sub-par RPM rating. But those are not going to cut it if you want to carry out heavy-duty drilling tasks. Instead, you would want to opt for the ones that have both a powerful motor and a higher RPM rating.
On that note, check whether there is an adjustable mechanism for the RPM or not. Without that, you will be stuck with a single speed, which will make it hard to work with different materials. Also, check how easy it is to adjust the mechanism because that is important too.
Chuck: One of the important components of the drill machine is the chuck. Here, firstly, consider the securing mechanism. The ones with a proper chuck will be easier to work with. And you will not have to struggle that much to secure bits to them. Some will not even require any tools.
Secondly, check the compatible drill bits. If you are planning to do some heavy-duty works, it would be wise to go with the ones that can hold large-sized bits.
Cooling System: The last thing that you must consider is the cooling system. However, if the motor has a brushless motor, there will be no need to worry about this too much. Those run pretty cool. For the others, check the cooling system. The higher the efficiency of the cooling system, the less the chances of the unit overheating.
Corded Drill FAQs
Are drill press and the corded versions the same?
Not really. Drill presses are stationary drills. With those, you can only work with small to medium workpieces. However, they do offer a higher level of precision. On the other hand, corded drills are not removable, and you can carry them around to work with workpieces, walls, and other things.
What is the highest RPM rating for a drill?
The average RPM rating for the corded drills is 1500. However, there are plenty of highly capable options that can offer up to 3000 RPM. Those are capable of carrying out different heavy-duty tasks.
Do corded drill machines overheat?
That will depend on the cooling system and the type of motor. Usually, the ones with a brushless motor and a good cooling system will be less likely to overheat.
Are brushless motors better than brushed versions?
Yes, the brushless motors are significantly better than the brushed versions. Those are efficient, and most importantly, those runs reasonably cool. For that reason, they have lower chances of overheating.
Do all drill machines have a side handle?
Usually, the compact ones will not come with a side handle. Those will be light enough to be easily controllable.
Final Words
As you can see, getting the best corded drill under $100 is not really that hard. All you need to know is the brands that are offering them and things to consider before getting them. And we believe we did a proper job in making you acknowledged in both the factors.
On that note, if you ask us to choose our best pick, it would be the DEWALT DWD115K. It has a reasonably powerful motor with a respectable RPM rating. Also, it packs a mid-handle design, which is going to make operating the machine a breeze.